Ultraframe is the UK market leader in conservatory roof systems and around half of all conservatories being installed today feature the Ultraframe Classic roof (or one of its linked/associated brands).
Ultraframe has been dedicated to the design, manufacture and installation of conservatory roofs since the early 1980's when the 'modern era' of conservatory building commenced. In that time Ultraframe have supplied over one and a half million conservatory roofs into the 'trade'.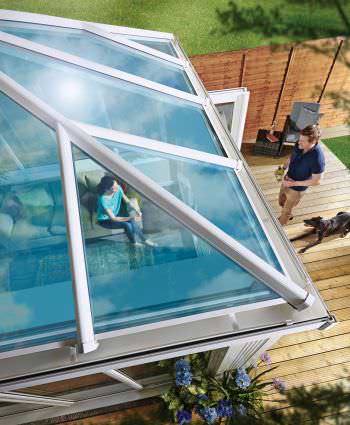 In 1996 – as there are no Britsh Standards for domestic conservatory roofing – Ultraframe became the first dedicated conservatory roofing company to submit its products to independent testing. The British Board of Agrément is apart of a Europe wide testing regime and Ultraframe achieved full certification and has had it continuously ever since.
Ultraframe is a business to business (B2B supply) company, supplying to major nationals, large regional companies and to hundreds and thousands of smaller family owned retailers/installers/builders across the UK.
Adding a conservatory to a home has always been a quick and effective way to add space to a home – young families particularly appreciated that conservatories offered value for money and a polycarbonate roof was what most of this group opted for.
There are many reasons why the Ultraframe Classic conservatory roof is the best performing on the market. In addition to the independent BBA certification mentioned above, Ultraframe submitted its roof to further independent testing at Windtech – see the video to check out how the Ultraframe Classic roof performs in 130mph winds... Furthermore, structural components like box gutter supports are CE Marked, further evidence that the Ultraframe Classic conservatory roof is fit for purpose.
One of the main reasons for the popularity of the Ultraframe Classic conservatory roof is that the companies retailing the product know that no matter how complex the consumers design or no matter how intricate the existing dwelling, Ultraframe can design a conservatory that is fit for purpose, weather proof and will last for 'at least 25 years' (quote courtesy of the BBA certificate).
A further reason it's a popular roof is that if the retailer provides the postcode of the property being added to, Ultraframe can enter it into its software and engineer the roof to the exact wind and snow loadings applicable to that location. So, although most domestic conservatories are exempt from Building Regulations and most of the time a conservatory doesn't need to comply the relevant Eurocodes ( wind loads that apply to buildings), Ultraframe ensures that when a postcode is provided each roof is checked for compliance to these tough regulations. – true peace of mind).
Every Ultraframe Classic conservatory roof that is built and sent to your home features a registration form in the roof kit – always ensure you request this from the on site fitter. Whilst not a guarantee, it proves that you have a genuine Ultraframe roof and this can be then registered on line in return for which you receive a Certificate of Authenticity and a maintenance manual.