What types of flooring are recommended for a conservatory?

Choosing a floor for your conservatory is just as important as its walls, but with the sheer number of different options in style and material it can be confusing. What you plan to use your conservatory for, in which direction it points and how much time you will spend there all need to be considered.
Laminate floors
Laminate floors can look just as good as wood, but are much cheaper and incredibly easy to install. The top layer is toughened to make it difficult to scratch, stain or damage. The boards click easily together or apart like a jigsaw, so anyone can install them and still get a professional look. The best thing about laminate floors is the durability you get for your money, so they are great in high-traffic areas. They don't heat up or cool down too much, so work well in south-facing conservatories in the summer and even on winter nights.
Stone floors
While stone floors can be very expensive, real stone can add a classy look. A variety of materials are available,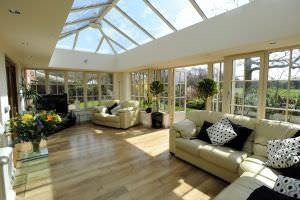 each with pros and cons, so research is vital before splashing out. Marble looks luxurious, but can be damaged and needs polishing. Granite is the opposite: tough and durable, but does not exude the luxury of marble. Stone floors can be cold in winter.
Ceramic tiles
Ceramic tiles come in a variety of styles, some imitating the effect of natural stone, some bringing a totally unique look. Porcelain tiles come in every colour under the sun, quarry tiles mimic more natural shades, while terracotta
is ideal if you fancy the Mediterranean village look. Ceramic is cool, so good for south-facing conservatories, but not so comfortable on winter evenings.
Cork floors
Cork floors are very low-maintenance, hard-wearing and springy, therefore nice to walk on. This also makes them the perfect choice if the conservatory is liable to become a play room for the kids - cork does less damage to little kneecaps than stone or ceramic tiles. These floors can be treated to protect them from spills. They are tough and warm to bare feet.