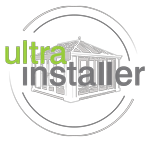 How to Choose the Right Flooring for Your Orangery or Extension
16th November 2015
Find an Installer
A conservatory, orangery or extension is more than just a place to sit during the summer. Today, these stunning spaces are being used all year round as an important extra living space. Choosing the right flooring for your new room is integral in making the space as comfortable and usable as possible.
There are a number of ways to look at your extra room. You may see it as an extension of your current living space, and therefore want to decorate the room to match your current interior. This is perfectly possible, and while you may have to make some additions you can make a comfortable continuation of your house in this room.
Alternatively, you may see the room as its own entity – with its stunning natural light and views overlooking your garden, and may want to give the room its own feel. It also matters how you plan to use the room, you may want it for entertaining, relaxing, to study, as a greenhouse, or as a playroom for the kids.
With all of these factors in mind, the floor is one of the most important parts of the room. It is also one of the most difficult elements of décor to change later on, so it is vital that you make the right decision as soon as you can. From carpet to vinyl, here's our guide to choosing the right flooring for your orangery or extension.
Floor Options
Carpet
Carpet Advantages: Warm and Cosy
Lining your floor with carpet is a great way to keep the room warm during the winter and cosy on your bare feet. It can also be laid over a wooden or another sub-flooring, which can be exposed if you need a change.
You are also in control of the colour, and can choose a design or pattern that you love and that fits in with your colour scheme. The only downside is that it can get dirty quickly and is sometimes difficult to clean. If you have pets or young children it might be a good idea to get a hard-wearing carpet or introduce an additional rug to reduce the damage.
Laminate Flooring
Laminate Advantages: Affordable and Attractive
Easy to install and cheap, laminate is a great option for a space that leads to the garden. It can be cleaned easily and looks very effective. The most popular laminate is one that replicates wood, but you can also get laminates that look like stone.
The only issue with laminate flooring is that it may result in heat and sunlight damage, causing its appearance to fade over time. Not all laminate flooring does this, however, so make sure you choose a high-quality laminate that is strong enough for the job.

---
Wood Flooring
Advantages: Classic and Durable
If you have opted for a wood-based orangery or extension, wooden flooring can give the room a classic, yet modern, feel and can last a lifetime. In practical terms, however, wood expands and contracts with heat changes, which can cause the flooring to crack and change shape if the room temperature isn't regulated.
It is possible to ensure your room is at a stable temperature by investing in underfloor heating and air conditioning, if you do not already have it. This means that you can enjoy all the benefits of a beautifully traditional appearance that performs to a standard that is expected from modern home improvement solutions.
Vinyl Tiles
Advantages: Cheap and Easy
A cheap and manageable option for conservatory flooring, vinyl tiling can be very effective in giving a rustic stone feel, without paying stone prices. If you have a lot of footfall through your conservatory and are expecting a lot of mess, then vinyl is a great option, offering an eye catching yet durable and practical solution for your home.
It is easy to clean, to fit and comes in all kinds of effects and colours. However, if you do not have an option to heat the vinyl you want from underneath, then you may find the tiles a little bit cold during the winter. Please note that not all vinyl can be heated from underneath, so make sure you check with your supplier first.
---
Find Your Nearest Approved Ultra Installer
Enhancing your home with a conservatory, extension or extension that promises a comfortable, safe and stylish living area throughout the year is made easy with our exceptional designs. We invest heavily into research and development to ensure we always stand at the forefront of quality and performance across the board.
Find your nearest Approved Ultra Installer to guarantee yourself an installation process that will excel in all areas of professionalism and reliability. All of our Ultraframe specialists are well versed in installing our wide range of products, which offers you the peace of mind that only the very best the industry can provide.