What options are available for remodelling an orangery's interior?

There's no more beautiful domestic space than that provided by an orangery. Whether you're wanting to bring it up to date or restore it to its former glory, it's worth going the extra mile to do it well.
Flooring
The best flooring for your orangery depends on two things, what you can afford, and how you intend to use the room. If you intend to keep a lot of plants, or if casual dining will take place there, a wipe-clean floor is best. Linoleum is the budget option and can look a lot better than you might expect, with many different colour options to choose from. Stone flags are the traditional option, from marble at the very top end to more affordable, but still stylish options like slate. Some people prefer sealed wooden boards, which can tie in neatly with décor themes elsewhere in the house, and also look good if the orangery is used as a sitting room. In this event, carpet is also an option. Choose one that's easy to shampoo or steam.
Furniture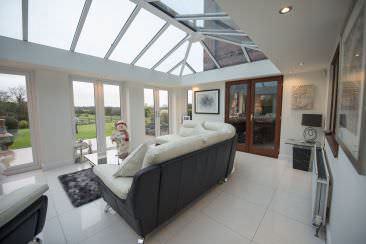 The easiest thing to replace in an orangery is the furniture. The trick to doing it well is to match the style of tables and chairs to the shapes in the room itself, for instance by choosing tall, straight furniture, if the room has straight pillars and oblong shapes, or chairs with arched backs if it has arched windows.
Walls
In a wood-built orangery, repainting the walls is easy. If you have a stone one and are growing tired of the way it looks, consider plastering a feature wall - a job that can be done in just a couple of days. Painting it in a strong, defining colour can add character to the room. If you plan to have plants climbing across a wall, be sure to seal it against damp.
Windows and doors
Upgrading the glass in an orangery can be done at surprisingly low cost and can soon start saving you money on heating as well as making it look better. Improved seals on doors and windows also help. Some people also choose to upgrade their doors, for instance by removing old fashioned patio doors and replacing them with more stylish, better quality bi-folding ones. These simple changes can make the orangery feel like a whole new room.