What base options are available for your conservatory?
Conservatories are a great way to maximise your enjoyment of the sunshine in our temperamental British climate. They are also an effective way to add light and space to the home, without the need to jump through the hoops of mainstream building regulations and planning permissions.
Having made the decision to install a conservatory, it is important to select the right base for your requirements and budget. There are two main types of conservatory base to choose from; a traditional build or a steel base construction.
A traditional base involves getting a builder to measure, dig and lay the foundations for your conservatory and then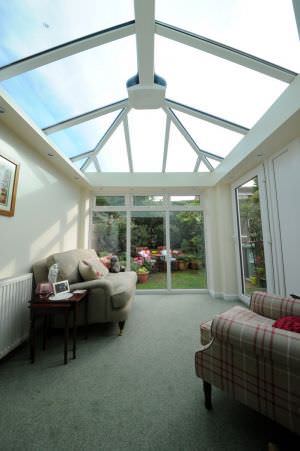 complete any brickwork your design may involve. Once this has been completed, you or your builder will then need to screed the floor and lay your chosen flooring. The need to employ a professional for the duration of the construction, which can take weeks, increases the cost of the project and can turn your home into a building site.
It does, however, mean that someone else does all or most of the work, and they will also be on hand to provide advice during the course of the build, which can be a reassurance for less confident homeowners.
If you choose a steel base construction, your conservatory can be built quickly and easily on pad foundations, creating just a few barrow loads of soil that can be easily redistributed around the garden, so no need for the expensive skips required for a traditional build. The steel base system also allows you to safely build over any parts of your existing drainage system that may run under the site, installing access panels over manholes, if necessary. This avoids the need to bridge over or redirect pipework, which a builder or plumber may need to do in the course of installing a traditional base. Once a steel frame base has been installed, modular walls can be put together in a matter of hours. The possibility of doing much of the work yourself cuts the cost of the project, an important factor for budget-conscious homeowners.
Both these base options can provide a solid foundation on which to build your new conservatory, it's just a matter of deciding which approach works best for you.