How do I insulate my conservatory roof?
The best way to insulate your conservatory roof is to remove the old roof and replace it with a roof that has been specially designed for conservatory roof replacements.
What are the benefits of Insulating my conservatory roof?
If you have an old or outdated conservatory, you may be wondering how do I insulate my conservatory roof? As many of us increasingly have a need for more space in our homes, it's becoming more important than ever for conservatories to be fully functioning rooms that can be used all year round, whatever the weather – and so more and more people are looking into how they can insulate their conservatory roof to give them a usable space all year round.
There are several things you can do to insulate your conservatory roof and there are also some things that you definitely shouldn't do to insulate your conservatory roof!
First of all, let's look at what you really shouldn't do to insulate your conservatory roof.
FIND YOUR LOCAL APPROVED ULTRAFRAME INSTALLER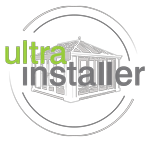 Conservatory insulation – why it's a bad idea.
What risks are there insulating an existing conservatory roof?
Conservatory insulation companies offer a method of cladding an old conservatory roof which they advertise will transform it into a more usable, warmer room. However, there are many risks associated with insulating your conservatory roof in this way.
Here are the top 5 risks of insulating your conservatory roof with cladding:
1. The glazing bars being drilled
The glazing bars on a conservatory roof are there to hold the glazing in place. However, Ultraframe glazing bars also have other very important functions – to provide rigidity and assist with ventilation and water drainage.
By drilling straight into the glazing bars during the process of insulating your conservatory roof, both of these functions are compromised, meaning that the roof will be weaker and ventilation will decrease. By drilling into the glazing bars, conservatory insulation companies are also exposing the conservatory to the risk of leaks as they have opened up a component that was designed to be completely sealed.
2. Adding weight to the roof while insulating a conservatory.
When insulating a conservatory, timber is attached to the length of the glazing bars. A large number of factors are calculated when a conservatory roof is designed to ensure that it is structurally sound and therefore, safe. These include calculating the worst wind and snow loads that might be experienced at that location.
When a conservatory insulation company attaches timber batons along the length of the glazing bars, they are altering the dynamics of the roof by placing a heavy load on it that was not allowed for during the original design calculations. The worst-case scenario is that this load from the conservatory insulation timber could potentially lead to the collapse of a roof – especially on old conservatories.
3. Creating a thermal barrier while insulating a conservatory.
After attaching the timber batons, a thermal quilt is attached, followed by PVC cladding. These materials provide a complete thermal barrier, which conservatory insulation companies promote as a positive. However, there is no way of stopping a conservatory from being exposed to heat and heat build-up, it is something that naturally occurs during periods of warm weather or when heating a conservatory in cold weather, and that must be dealt with to ensure adequate ventilation and a comfortable interior environment.
The conservatory insulation method means that when heat enters the conservatory, it will be unable to leave, resulting in heat build-up in the roof space. The best-case scenario of this heat build-up is that the conservatory could become extremely warm and uncomfortable to be in following a conservatory insulation installation. The worst case is that this heat build-up could dangerously affect the strength of the roof and the entire conservatory structure. In worse cases, if the heat build-up caused by the insulation of the conservatory is bad enough, the roof or the entire structure could be at risk of collapse.
4. A dark, gloomy room.
Aside from adding extra space, one of the key reasons most of us add a conservatory to our homes is to bring light into the home. Covering your conservatory roof with insulation creates a solid roof space that cannot be penetrated by light. This means that not only will the existing conservatory below become extremely dark and gloomy, but also the room's adjoining to it. This is not the most dangerous risk of conservatory insulation, but still, a very important one to consider.
5. Fire safety.
The materials used in conservatory insulation will undoubtedly add to the risk of fire spread and penetration in the event of a fire. This is because they were not part of the original conservatory structure and have not been tested for how they will perform in the event of a fire in conjunction with the materials of the existing roof.
Find Your Local Installer
Looking for a well-insulated conservatory roof? We can put you in touch with a local, approved installer.
What is the best way to insulate your conservatory roof?
As you can see, there are many risks to achieving an insulated conservatory roof by using conservatory insulation and cladding. So how can you insulate your conservatory roof safely and properly?
The answer is not to attempt to insulate an existing roof, but to remove an old roof and replace it with a new thermally efficient and perfectly insulated conservatory, tiled, or solid roof.
Conservatory and solid roof technology have moved on so much in recent years that a new solid or glass roof will provide far superior insulation to your old conservatory roof – or the solutions provided by cladover roof companies for that matter! These new advanced roof solutions are safe, strong, thermally efficient and will flood your home with natural light.
If you choose to upgrade to an insulated conservatory roof by opting for a new solid roof option, then the best systems available are the Ultraroof and Livinroof systems from Ultraframe. These are solid roof systems that can be used to transform an old conservatory roof in just a couple of days!
The systems do not cladover your old roof as conservatory insulations do – your old inefficient roof would be removed and replaced with a new roof to ensure it is structurally safe. The new roof would be designed for the specific weather requirements of your location, the window and door frames it will sit on and other factors such as shape, size and whether you wish to include glazed areas (with Ultraroof and Livinroof, you can have full length glazed panels in the roof).
Ultraroof and Livinroof are the strongest solid roofs on the market and every single roof is engineered to the specific requirements of your existing conservatory, for your complete peace of mind.
Ultraroof and Livinroof roofs can be personalised with full-length glazed panels to ensure that your new room, and those adjoining, are flooded with natural light.
Ultraroof and Livinroof are also the warmest solid roofs on the market, offering unrivalled thermal performance far superior to that of conservatory insulations and their cladover roofs. These are some of the best insulated conservatory roofs on the market with amazing thermal performance.
Ultraroof and Livinroof are not only the best available solution to insulating your conservatory – they also look beautiful from inside and outside. Ultraroof features a tiled finish externally, available in a choice of 3 colours to complement your existing roof, while Livinroof features a contemporary grey panel finish. Each of the systems can have multiple full-length glass panels at various points in the roof, and from the inside, both Ultraroof and Livinroof offer a beautiful plastered ceiling, just like those in the rest of your home.
From a fire safety point of view, Ultraroof and Livinroof have both been fire tested as full systems and meet current UK legislation for fire safety. This means that they have been tested in terms of how all the components act together as a complete structure in the event of a fire, rather than how each component would perform.
We hope that after reading this guide, you understand how inefficient and dangerous it is to clad a conservatory roof to insulate it. The only way to truly have an insulated conservatory roof is to replace it with a new thermally efficient solid roof. This will provide you with a warm, safe room that looks beautiful and that you will be able to enjoy for many years.
FIND YOUR LOCAL APPROVED ULTRAFRAME INSTALLER