Introduce light into your home with a conservatory
An Ultraframe conservatory is like a room without a roof, allowing you to enjoy everyday living in a new light.
Of course, a conservatory is a bright, airy environment, but did you realise that the adjoining room in your home will also benefit from extra light? This effect can be maximised by choosing a conservatory featuring a glass roof such as those shown on this page. This will allow the maximum amount of light into your home, adding to the sense of space.
Ultraframe roofs are the most technically advanced on the market and are structurally proven to carry the weight of a glass roof. Be sure to choose our Conservaglass high performance glazing to ensure that your light-filled conservatory is truly a room for all seasons.
Plus, when the day's light is done, you can enjoy the evening in your conservatory in an intimate, easy-going atmosphere, thanks to well placed spotlights in the ridge of your conservatory roof, complemented with atmospheric candles and table lamps.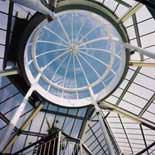 We had a new conservatory built to give us more room and the company that built it recommended we have an Ultraframe roof with self cleaning blue glass fitted and I must say it is really first class. It does what it says it will do, reflects the sun and still gets very warm but considering the weather we have had, it is very good. A very satisfied customer!

Mr and Mrs Addison