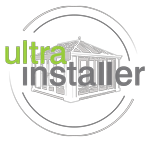 The Importance of Properly Upgrading Your Conservatory Roof to a Tiled Roof
16th May 2014
Find an Installer
Enhancing your home with a high performance tiled conservatory roof is a modern way to bring a traditional charm to your home. Since October 2010, many people have been taking advantage of updated regulations which allow us to enjoy a tiled roof on our conservatories. Tiled conservatory roofs not only look stylish, they also have several great advantages.
Improved insulation/temperature control, reduction in glare and added privacy are just some of the benefits to be gained from installing a tiled conservatory roof. However, specialists have warned of some of the difficulties and dangers that can occur from the installation of roof tiles if not carried out correctly, especially by rogue traders.
Tiled Conservatory Roofs: Getting It Right
Because of its lightweight structure, a conservatory is not subject to the same building regulations as houses. Many people are unaware that by placing a tiled roof on their conservatories, they are then subject to regulations involving structural integrity, insulation and fire hazards. This can cause an array of unexpected problems.
Even though conservatory roof tiles are lightweight, they could still be a hazard that could make your conservatory structurally unsound and could lead to damage to your property, or even injury if it were to collapse. A conservatory that is structurally unsound could be subject to adverse weather such as snow or bad storms, and you could be putting your life in danger.
It is recommended that before you select a professional and reputable installation company, you should definitely do your background research and make sure their service LABC approved. This means you won't have to worry about a conservatory roof installation that is full of safety hazards and quality problems.
---
---
The Managing Director of insurance company Admiral commented:
"PVC frames are not designed to take the load imposed by such additions as solid roofs. Most of the lightweight tiles weigh as much as three times the weight of glazed roofing. We are concerned that extremes of weather or snow loading could cause some of these rogue buildings to collapse. If it happens, let us hope that nobody is seriously hurt or worse."
---
Conservatory Roof Installation
Depending on how your roof is installed, it could also have an adverse effect when it comes to selling your house later on. Lack of a building regulation approval certificate could cause problems or even lower the price of your home significantly. This is the complete opposite of the advantages a proper tiled conservatory roof installation will bring.
All approved Ultra Installers have been vetted and tested to ensure they are not only specialists in handling and installing our range of premium products, they also uphold our usual market-leading standards when it comes to service. This means you'll be able to enjoy unrivalled standards of professionalism and respect throughout the whole conservatory roof installation.
Due to the innovative design of our tiled conservatory roofs, you'll be able to enjoy an exceptional enhancement to your home in a notably reduced time. The combination of intelligently designed components and competent fitting teams means all of our tiled conservatory roofs are fitted in a prompt, efficient and effective way.
The Ultraframe Tiled Conservatory Roof
The Ultraroof tiled conservatory roof system combines the very best in function and form to deliver a leading home improvement solution. Transforming any conservatory into a beautiful living area that remains bright and warm throughout the year, this conservatory roof design is sure to be a worthwhile investment for any property.
This roof design can feature full height glass panels, which mean you can enjoy all the benefits of a solid conservatory roof design without having to compromise on natural light allowance. Not only will this roof design allow you to enjoy a bright and spacious living area, it also features three main components that are pre-cut to size to ensure the installation is hassle-free.
To bring a personal touch, you'll also be able to choose from 3 distinct tile colours, including 'Carbon Grey', 'Harvest Brown' and 'Terra Brick'. These colours are designed to effortlessly capture the authentic slate effect, which means that the aesthetic of this tiled conservatory roof stays true to the original design.
---
---
Find Your Nearest Tiled Conservatory Roof Installer
Our tiled conservatory roofs are the result of our heavy investment in research and development, allowing it to stand at the forefront of design and performance. We are proud to offer the most technically advanced roofing systems on the current market, excelling in thermal efficiency, security, durability and performance.
Find your nearest approved Ultra Installer to benefit from a premium product, professionally installed. All of our Ultraframe specialists are tried and tested for their competency, efficiency, reliability and promptness. You won't have to settle for anything less when you choose Ultraframe for your tiled conservatory roof.