Pushing Forward with Verandas
Conservatory Outlet is offering a stylish new Veranda from Ultraframe to its dealers, as part of the company's drive to push up standards in the conservatory sector, and promote excellence in new design, CM reports.

Taking the idea that 'conservatories bring the outside in' one step further, the glass roof in Ultraframe's Veranda conservatory extends beyond the walls to protect an outside seating area. The homeowner can therefore enjoy the benefits of being outdoors, while being protected from the worst of the elements. Furthermore, on a warn day in-line sliders or bi-folds can be pushed right back so that the family can enjoy a much bigger space.




Matthew Glover, Conservatory Outlet's MD, was bowled over by the Veranda at last year's Glassex, and immediately bought one for his own house. "When I walked onto Ultraframe's stand at Glassex last year I just knew I had to have a Veranda," he said. "The existing foiled conservatory I had on my home looked tired and I had already changed my windows for cream uPVC ones which looked stunning. It's fair to say that my wife and family love the new Veranda, and the addition of the full width doors improves access to the garden and at the same time integrates it more into the home."

Following the Veranda's success on his own home, Matthew is now pushing the concept out to members of the Conservatory Outlet Network. "It is this sort of innovation that the industry has been crying out for." Matthew said. "It has been my fear for a few years now that the conservatory industry is dying a death because of lack of imagination.
"Many conservatory companies believe that if they build as many white boxes on to the back of houses as they can, then they will make the same kind of money as they did 10 years ago. Well, they are wrong. Not only are they flogging a dead horse, but the proliferation of poorly designed conservatories is putting off homeowners from investing in the idea.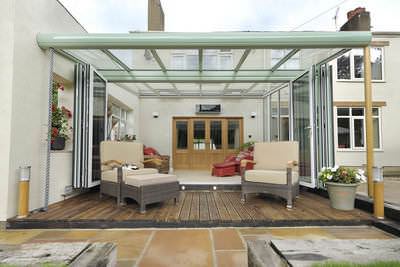 "However, Ultraframe's Veranda conservatory is an example of the imaginative design we need, and I know that the forward-thinking people in Conservatory Outlet's network are just the guys to push this out to the market."

Readers interested in further information on Conservatory Outlet should visit a special website

www.conservatoryoutletdealers.co.uk
View a copy of this article as it appeared in Conservatory Magazine

-End-


Ultraframe deliver innovative and top quality conservatory roof systems for the trade which suit all styles, all applications, all consumer types and which offer excellent value for money.

The market leading company invests heavily in research and development to provide the most technologically advanced and stylish conservatory roofing solutions, maximising light and space. Ultraframe are at the forefront of conservatory design and its systems are mainly used in the home improvement sector but also in new housing and commercial applications in the UK and Europe.

In 2006 the privately owned Latium Group, which has many interests within the glass & glazing and home improvement markets acquired Ultraframe. The Latium Group is owned by entrepreneur Brian Kennedy.


For further media information:
Mark Hanson
Ultraframe (UK) Ltd
Salthill Road
Clitheroe
Lancashire
BB7 1PE
01200 452375

mark.hanson@ultraframe.co.uk