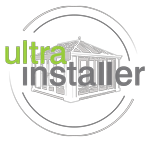 Good Ventilation is Critical to Climate Control and Customer Satisfaction
7th August 2006
Find an Installer
We understand that you want the optimum from your conservatory, which is why we strive to offer a room for all seasons and an enjoyable and comfortable addition to any home. The management of the conservatory environment – temperature, airflow and condensation - is crucial for a conservatory owner's enjoyment. Ultraframe has always made a virtue of its ventilation systems in its conservatory roof and is the only manufacturer to provide ventilation on all its roofing systems as standard.
All of our conservatory roofs, including the Classic conservatory roof, the Ultraroof and the Livinroof have been enhanced and updated over the years to ensure they offer adequate ventilation throughout the year. When conservatories become dated, they can often feel like an oven in the summer and an ice rink in the winter. Not only does this prove to be highly detrimental to your comfort, it also means there will be times in the year when your conservatory will be unusable at certain points of the year.
The Design and Development Director at Ultraframe Commented:
"It is essential that installers are familiar with the site conditions, specify methods for obtaining airflow through the conservatory and offer the homeowner the best advice on environmental control measures. At Ultraframe we offer installers a greater competitive advantage because all our roofing systems have a range of effective ventilation solutions built in as standard to ensure greater comfort for the homeowner."
Types of Ventilation
Provision of conservatory ventilation falls into two categories – primary and secondary ventilation. Primary ventilation includes the opening of top light windows, roof vents. The provision of roof vents is a particularly effective method of ventilation with one roof vent providing the equivalent ventilation of four windows. This allows you to keep a standard of air flow that is kept consistent across the board. An Ultraframe specialist will be able to offer you advice on how to achieve this.
As well as roof vents and windows is it important to consider secondary ventilation. Ideally, ventilation should be provided in the ridge and in the eaves beam to encourage air movement and minimise heat build-up in the summer months. This air movement can be enhanced by the use of fans, as well as the natural convectional movement of air that can be gained through upward air flow from open windows to roof vents. Getting this right can really change the comfort of your home.
---
Ultraframe's Approach to Ventilation
A trickle ventilation system is integral to all Ultraframe roofing systems. This type of ventilation is essential to minimise condensation which can be a major issue outside of summer months and allows a natural extraction of moisture while providing a comfortable interior temperature. You'll be able to use your conservatory all year round.
The added benefit of incorporating integral trickle ventilation is that a degree of air movement through convection will be gained throughout the summer. We offer patented controllable ventilation through the ridge as standard on our Classic roofing system. This takes advantage of warm air rising and collecting in the inverted 'V' at the ridge where trickle vents allow it to escape.
We know you depend on industry experts to assist in turning your dreams into reality all year round. To assist fabricators and installers, Ultraframe roofing systems include a selection of patented primary and secondary ventilation solutions. These help to ensure comfort for conservatory owners whatever the weather, whether it is baking hot or freezing cold, you won't have to worry.
The Benefit of an Ultraframe Conservatory Roof
Not only do our conservatory roofs look and perform to unbeatable standards, they also offer you a degree of ventilation control that will continue to bring value long after installation. Our conservatory roof designs are the result of the latest innovations in the market, supported by our investment research and development.
Not only does efficient ventilation help to improve the comfort of your home, it also allows you to enjoy a range of other benefits. This includes the possibility of lowered heating costs and carbon emissions throughout the year, as increased heat retention in the winter means you will rely much less on your central heating to warm your property. Therefore, you will use it less frequently.
---
Find Your Nearest Approved Ultra Installer
Enjoy all the aspects of market-leading conservatories, conservatory roofs, house extensions and orangeries by opting for an Ultraframe home improvement solution. You won't have to settle for anything less that premium standards across the board, bringing a new addition to your home that is sure to be a worthwhile investment.
Find Your nearest Approved Ultra Installer to benefit from a design that maintains home comfort, installed by specialists. All Ultra Installers are vetted and assessed before they gain approval, as we make sure they always uphold the highest degree of professionalism and reliability. You'll enjoy an installation that minimises disruption to your daily life.