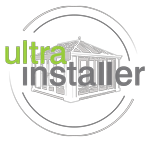 Changes in Building Regulations Bring Good News For Conservatory Owners
2nd January 2015
Find an Installer
Previously, the need for planning permission for a solid conservatory roof meant installers tended not to fit them. Thankfully, recent changes in building regulations now mean that many conservatories can benefit from a solid roof without the need to go through the costly and time-consuming planning process. Save yourself the stress and get it right the first time.
Whether you're considering your first conservatory or are already enjoying the benefits of an existing conservatory but would like to upgrade, read on to find out how to get the roof you want without needing planning permission. The combination of these new regulations and our conservatory roof expertise combine to make things as simple as possible.
Conservatory Roof: Separating Wall and Temperature Control
Usually planning permission isn't needed to install a solid tile roof provided the conservatory has an on/off switch to control temperature, and that all electrical and glazing work is appropriately certified. The conservatory needs to be clearly separated from the main building through the use of exterior grade doors, windows or walling.
Also, size matters! Any conservatory that takes up more than thirty square metres of floor space will need planning permission before solid tiling can take place. It is important to take this into account when planning a larger scale home improvement, as a failure to comply with building regulations can result in legal problems further on down the line.
---
---
Conservatory Roof: Check with a Professional Whether Permission Is Required
If you're considering getting the work done, it is vital to consult with a suitably experienced professional, as factors such as the conservatory's position, its height and construction materials can all mean that planning permission must be sought. Sometimes, the thing that could seem irrelevant to obtaining planning permission could turn out to be the determining factor.
It's always better to check than to go ahead, as planning departments can be ruthless if they discover that regulations have not been adhered to and may even demand that the roof is removed! Signing off planning permission is usually appointed to your local council, so make sure you get in touch with them for any help you may need in regards to conservatory roof planning permission.
Have You Built a Shed?
If you've recently erected a new shed, stable building, outhouse or storage facility, you could have inadvertently covered more than 50% of your property's land with buildings. This means that planning permission for your conservatory's new roof will be required, even if the original conservatory did not need permission. It's things like this that could end up catching you out.
A conservatory is a fantastic home improvement to make, providing additional space and significantly increasing the value of your property. A solid tiled roof could enhance this appealing feature even further, enhancing its aesthetic value as well as providing practical benefits such as increased longevity. This means you'll be able to enjoy a standard of quality that is set to last.
Once Planning Permission Is Obtained, What Conservatory Roof Can You Get?
Once you've got a green light from the council to move ahead with your new solid conservatory roof, you'll probably be wondering what sort of solid roofs are on offer. Our selection achieves a standard of quality that has proven itself to be completely unique in the current market, combining innovative manufacturing techniques with premium grade materials to deliver a higher standard.
With Ultraframe, you are able to choose two unique solid roof designs. Our Livinroof is the first ever roofing system that offers you the flexibility to combine solid and glazed roofing seamlessly. Not only does this system help to expand your living space, but it also captures a design that enables you to enjoy a heightened degree of customisation and versatility for a roof that brings a personal touch.
We also offer the Ultraroof, an exceptional roof design that captures the look of a traditional tiled conservatory roof with all of the advancements made possible by the modern age. This system has been intelligently designed to offer a conservatory roof that enables you to enjoy a conservatory that stays warm in the winter and cool in the winter, proving to be a worthwhile investment.
---
---
Find Your Nearest Conservatory Roof Installer
Due to our heavy investment in research and development, all of our conservatory roofs excel in both performance and appearance. You are sure to find the perfect roof for your property, enhancing comfort with the most technologically advanced roofing system on the current market. There is no need to settle for anything less than Ultraframe.
Find your nearest approved Ultra Installer to benefit from an unrivalled standard of product quality and installation service. We vet and test our Ultraframe specialists before we approve them, ensuring they maintain the very highest standards of professionalism, reliability, efficiency and respect for your home improvements.