SUPER INSULATED columns... ENGINEERED with STYLE & substance.
Many iconic buildings created during the Italian Renaissance have stood the test of time for two reasons: rare design ingenuity and a total focus on longevity.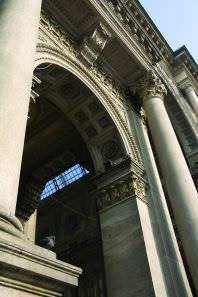 Super insulated corner columns follow those same guiding principles, possessing a core strength which delivers real rigidity and durability.
Whichever design option you choose, our total commitment to quality and engineering excellence will ensure that your Loggia will last and last:
Super insulated columns are super-insulated and precision engineered, with a U-value of only 0.15 W/m2 Degree C, making them twice as efficient as a normal insulated cavity wall and 10 times more effective than typical window glazing.
Internally, Loggia's construction is just like a real room, with a plastered finish just like traditional masonry.
With a range of options available, you can achieve exactly the style of Loggia you want. Available in either large or small sizes to suit your building, there is also the option to mix or match to suit your chosen design.
Columns can be sited in a number of places around the perimeter – at 90 degree external corners, in-between frames, either side of door openings or at the abutment to your property.
Columns that sit next to the existing wall (abutment columns) have an integrated hidden 'pocket' where a rainwater pipe can be concealed to drain the roof. Much better than having a wall-mounted rainwater pipe, which can be unsightly.
Additional detailing is available at the base of the full height super insulated columns, with a range of options to personalise your new living space and harmonise with your pathways and landscaping.
With super insulation, nothing is left to chance. On the 90 degree corner columns, we input your postcode on our sophisticated analysis software U-design. This then calculates if additional structural support is needed and if so, seamlessly adds enhanced support: a) where the column integrates with the foundations and b) when items such as bi-folding doors are integrated.