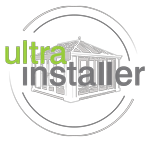 Find Out How Ultraframe's Livinroof Transformed This Couple's Conservatory
14th May 2018
Find an Installer
System:
Livinroof
Ultraframe Network Partner:
Cardinal Home Improvements - Conservatory Installer West Midlands
Livinroof – The Perfect Replacement
Livinroof: Why it Was Needed
When Mr. Telford became fed up with wearing a hat to protect himself from the heat of the sun in their conservatory, he and his wife, decided enough was enough - it was time for a change.
Mr Telford was delighted with the outcome and had this to say:
"We've really enjoyed the conservatory over the years, we've got the best of both worlds - the enjoyment of our bright sunny lounge at the front of our south facing home and the pleasure of our conservatory at the rear of the property. We really are spoilt for choice."
---

Livinroof: The Ideal Solution
Aware of solid roof replacement options, Mr. & Mrs. Telford began their search. They were immediately struck by Livinroof from Ultraframe and quickly disregarded other solid roof options.
As Mr. Telford tells us:
"We approached Cardinal Home Improvements to design and replace our new roof and windows. We don't intend to do this job again, so we were keen to find a company that we could trust to deliver a fantastic service.
"From the outset we were committed to the Livinroof and Cardinal Home Improvements really consolidated our thinking. We loved the glazing in the roof, in fact this was one of the compelling reasons to choose Livinroof, the fact that we could decide where the glazing was placed made it an easy choice."
While Mr. & Mrs. Telford were pleased with their new Livinroof, it was the installation process that really wowed the couple.
"With any home improvement project, you always hope it will be straightforward but in reality that's rarely the case. But I can say with absolute authority that everything Cardinal Home Improvements promised became a reality.
It's the small things that make a difference. The roof and all the components arrived on time, it was all stacked beautifully in the garden and the installers went out of their way to take care of our property.
In less than two days the old roof was down and the new windows and Livinroof were up. It all slotted into place perfectly. Absolutely amazing - there was no 'bodging' or 'making good', we were stunned by the efficiency and accuracy of both the fitting team and the Livinroof."
---
As well as being thrilled with the roof and its appearance, the Telford's also noticed a significant reduction in wind noise and general external sound. While noise wasn't particularly an issue with the old roof, noise reduction is just another reason Mr. & Mrs. Telford are so delighted.
As Mr. Telford concludes: "we loved our old conservatory but the Livinroof really has transformed the space. It's an absolute joy to sit in there now whatever's happening with the weather outside."
Mr. & Mrs. Telford were overwhelmed by the speed and efficiency of their Livinroof installation. "We loved our old conservatory but the Livinroof really has transformed the space."

Explore the Livinroof In Close Up Using Our Immersive VR Tool
If you're excited by the transforming effects the Livinroof had on Mr. and Mrs. Telford's home, why not take a closer look. You can use our virtual reality technology to look around an Ultraframe extension – and then step inside any of our orangeries or conservatories to discover the advantages of the incredible features that come as standard with our products.
When using our VR tool, you can also click on hot spots to find out about specific parts of the installation. Learn more about enhancements like our super-insulated columns, structural goal post and insulated pelmet – then ask your Ultra Installer for help with the design of your proposed Livinroof conservatory.
Save Images of Your Favourite Designs – Access them Anywhere, Anytime
If you find an image of the Livinroof that you like, save it to your Ultraframe Scrapbook. Creating a profile takes a couple of minutes, after which you'll be able to save the pictures that you like for inspiration later.
Once you've created your Scrapbook, you'll be able to access your library of images whenever you want – on the train using your mobile, relaxing in the garden while browsing your laptop or in a coffee bar using your tablet.
---
Find a Qualified Livinroof Installer
Use our installer search tool to find an approved UItra Installer in your area. Every member of our network has been assessed and approved by us. Your chosen installer will be able to advise on all Ultraframe products and provide a quote for your further consideration. You can also contact our team directly if you need advice or have a question not listed on our website.