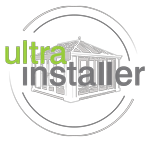 Ultraframe wins Engineering award for work with Clitheroe students
1st August 2004
Find an Installer
Sunday 1st August, 2004
Clitheroe Company, Ultraframe, the leading designer and manufacturer of conservatory roofing systems, has been presented with an award from the Royal Academy of Engineering for its work with pupils from the local Royal Clitheroe Grammar School.

Ultraframe worked with sixth form students for nearly six months, setting them an industrial challenge. Working both at school and at the company's headquarters in Clitheroe the four students were challenged to find a solution to the problem of "swarf" on site.
Swarf is the dust caused by sawing the uPVC roofing panel that makes the conservatory roofing systems admired throughout Europe. After much research and analysis the team came up with the "hotwire cutter" which melts through the uPVC and eliminates any dust. Ultraframe is now considering it as a viable tool for the future.
Mark Kershaw, from Ultraframe, worked with the students. He said: "The boys put a lot of time and effort into this project and into understanding the problems at the outset. They quickly picked up on the whole design process. I think they gained a great deal from working in a real situation and seeing how we solve problems and we thoroughly enjoyed working with the engineers of the future."
The four boys, Guy Isherwood, aged 16, Joe Salazar, aged 16, Faiyaz Saleh, aged 17 and Benjamin Reed-Smith, 17, all volunteered for the scheme. They are studying Maths, Design and Technology at Clitheroe Royal Grammar Schoo
Benjamin said: "We are really pleased with the results of our work and we are very grateful to Ultraframe for making it possible. We developed and successfully made a working prototype and presented our design in front of an audience, that included senior directors from Ultraframe and top engineering experts from Liverpool University who work with the Royal College to develop the annual scheme. It was a unique experience and great fun"
Chris Richardson, from Ultraframe, said: " We are delighted once again to have been involved with this very exciting project. As a long-standing local company we believe it is important to support our local education establishments and community and we believe this particular project really did challenge the teams both at school and Ultraframe!"