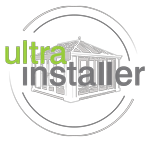 Ultraframe upgrades sample kits as part of enhanced customer sales package
24th November 2006
Find an Installer
Friday 24th November, 2006
As part of its marketing support package to provide customers with effective tools to grow their business, Ultraframe has updated and re-launched its range of samples. Stylish new sample kits will enable customers to demonstrate the benefits of using Ultraframe conservatory roofing products more effectively. New showroom models are also available to illustrate in detail exactly how the final roof will appear. The new range has been designed to be dual purpose and suitable for both consumer and trade sales situations.
The new samples range includes smart sample cases, showroom models and mini roofs for each Ultraframe roof system, along with specialist models of the ancillary products. The range features Ultraframe's most recent product developments, including the enhancements to the popular Classic system, such as chambered top cappings, bolster bar end caps and the tie bar replacement kit. Another exciting new addition is a practical Consumer Options Kit, designed to help sell the market leading variety of options available to personalise a conservatory.
The samples cases contain all the key elements of each roof system, such as an eaves beam with guttering, a full ridge with bolster, a tie bar cleat with eaves beam and examples of glazing and transom bars in various colour finishes in the Classic case. Each case also features striking graphics to illustrate the use of the product. The graphics are reversible, with one side featuring technical information on individual components for the trade, whilst the other side features more inspirational consumer-focused, lifestyle information. The samples cases, which are available for the Classic and Elevation roofing systems, are colour coded by brand and have a 12-month guarantee. Each case is also supplied with a shoulder strap for ease of carrying.
Ultraframe also offers a range of showroom models which are helpful in demonstrating to trade or consumers exactly how the roof will look and how its components function when selling a conservatory. Models are available for Victorian style Classic and Uzone models, as well as an Elevation roof with firrings, an Elevation Plus roof with hipped wings and a specialist model which illustrates Ultraframe's unique Conservaflash system.
The new Consumer Options Kit displays the extensive range of optional extras available to homeowners to personalise their Ultraframe roof. The kit is designed to help installers better sell these extras to homeowners by allowing them to understand and handle the many options available. The kit contains a range of product samples including glass and polycarbonate options, swatches of Ultraselect decorative fascias, samples of the two styles of chambered top cappings, dentil moulding, as well as one of the cresting and finial choices. All the samples, as well as a full range of consumer literature are packaged in a smart, easily portable bag.
Introductory leaflets are provided with each case detailing the contents and outlining the range of other marketing support items available for each roof. A satisfaction survey for feedback on the improved range is also included.
Ultraframe's desire to equip customers with the tools to impress prospective clients and make the job of selling Ultraframe products even easier can be seen in their other recent service innovations.
The Certificate of Authenticity was introduced to reassure homeowners that they have received a genuine Ultraframe roof and not a cheap imitation, whilst the Marketing Toolbox, available to members of the Guild Approved Ultra Installer Scheme, contains easy to use marketing templates and ideas that can be personalised to create cost effective marketing campaigns. Ultraframe also provides a range of consumer brochures including a comprehensive and stylish 44-page Conservatory Directory which is also available as a bespoke item.