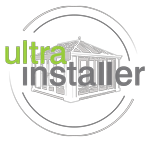 Ultraframe offers a total training package with its School of Excellence
8th December 2004
Find an Installer
Wednesday 8th December, 2004
With demand for conservatories increasing and the number of conservatory roofing options growing all the time, Ultraframe, the leading designer and manufacturer of conservatory roofing systems, is committed to helping its customers stay at the cutting edge of industry developments. The Ultraframe technical support team offers all Ultraframe fabricators, suppliers and installers specialist training at its School of Excellence.
Ultraframe is leading the way in customer service by offering attendees the opportunity to experience training in technical standards, the latest products and new installation techniques and all free of charge!
Linda Doughty, Marketing Director at Ultraframe, said: "We recognise that regular technical training is vital to keep fabricators and installers one step ahead of their competitors. At Ultraframe we continue to drive the market through innovation and as part of our total package of quality products and outstanding customer service and support, we offer our partners regular training and development to ensure their ongoing success."
The School of Excellence offers a series of specialised training modules designed by the industry experts at Ultraframe. Ultraframe users can select training in the areas that will be most beneficial to the work they specialise in. Modules include: Product Awareness, Technical Product Information, Structural Design and Portal Framed Conservatories. Surveyors can access specialised training in conservatory surveying, whilst fabricators can learn about Ultraframe's Victorian range in the Roof Fabrication module. Fitters can get hands-on experience while learning installation tips from the experts in Roof Installation.
Philip Wharf, UK Support Manager at Ultraframe, heads up the UK Technical Support Team and the Training Scheme. He commented: "The Ultraframe technical support team is the most experienced in the industry. We are proud to pass on our specialist knowledge and skills to our customers so that they can maximise the benefits of the innovative Ultraframe product range. We have a fully equipped training centre at our headquarters in Clitheroe and also offer a mobile training unit so that the Ultraframe UK team can support customers anywhere in the country."
Dan Ward, an independent builder from Wakefield, recently added conservatory installation to his services after he installed his first Uzone roof and loved its fitter-friendly clicklock technology. He attended the Ultraframe School of Excellence to learn more about the Ultraframe product range, which features a product for every application, style, budget and consumer.
Dan Ward said: "It was great to hear about what Ultraframe offers and what it can do for me as an independent installer. I saw the different styles of conservatories Ultraframe produces and got the opportunity to trial additional products, such as the Ultraselect decorative trim. I also picked up useful installation tips to make my next job even easier and faster to complete. Having attended the course I am confident I can identify my customer's needs and advise them on a style of Ultraframe conservatory perfect for their home and budget. I really got a lot out of the training and it was completely free!"
Ultraframe suppliers can extend the invitation of free training to their own customers who install Ultraframe roofs. At PBM-DQS, the largest independent fabricator and distributor of conservatory roofing systems in the UK, customers have already been taking advantage of the training at Ultraframe's School of Excellence. This has in turn had benefits for staff at PBM-DQS. Adrian Williams, Managing Director of Roofing at PBM-DQS, explained: "We have had great feedback from our customers who have attended Ultraframe's School of Excellence. They are always grateful that we advised them about the free courses and believe that the training was very worthwhile. We find that when our customers have attended Ultraframe training sessions they have a better understanding of the Ultraframe product range and its technological benefits. They also have increased confidence in the Ultraframe product and in the strong technical back up that the Ultraframe support team are on hand to provide. This ultimately makes our job of dealing with our customers simpler. It's a win-win situation."
Ultraframe installers who are members of the Ultraframe Registered Conservatory Installers Scheme already attend the School of Excellence on an annual basis. The Ultraframe Scheme is the most comprehensive and robust scheme of quality accreditation in the industry. As part of their membership to the Scheme installers are required to re-sit their assessment test at the School of Excellence each year. They also attend a day of practical training which ensures they are always aware of the latest technologically advanced and innovative Ultraframe products to offer their customers. The regular training and assessment are vital to ensure every scheme member, having passed the scheme's stringent vetting criteria, continues to deliver the highest quality installations and customer service
Linda Doughty continued: "Both the School of Excellence and the Registered Installer Scheme are prime examples of Ultraframe's drive to promote the highest standards of workmanship and professional service in the conservatory industry. They demonstrate Ultraframe's commitment to supporting its customers with the best after-sales service and technical support in the industry."
To arrange your customised training session at the Ultraframe School of Excellence please call 01200 4222