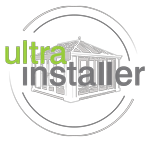 Ultraframe launches the new style Veranda conservatory at Glassex 2009
30th October 2009
Find an Installer
Friday 30th October, 2009
Ultraframe veranda conservatory makes the most of the great outdoors

Recognising the trend to 'cross-over 'conservatories, Ultraframe is previewing at Glassex it's Classic Plus roof with an extended eaves feature, which forms a really useful veranda facility.

Conservatories have always been an excellent way for consumers to blur the margin between home and garden, but Ultraframe is taking the idea to a new level with its veranda conservatory. The glazing bars in the roof oversail and carry the glass with it, to form a protected pocket where the consumer can sit in the garden but protected from the worst of the elements.

Moreover, on a warm day - by using large in line sliders or bi-folds – the retailer's customer then has a much bigger space to enjoy, perfect for family barbeques!!

The veranda conservatory that Ultraframe will display will be foiled externally and internally in grey and features the never before seen Classic Plus roof, which comes complete with built-in tracks for fabric panelled shading devices - these too are made by Ultraframe and are called Shades. On the veranda conservatory, inside the conservatory they feature a soft fabric to theme through with the consumers choice of home furnishings whilst outside under the oversailing eaves/glazing they are manufactured from a hard wearing and weatherproof fabric, akin to that used in awnings.

The veranda conservatory will be set dressed on the Ultraframe stand to inspire any visiting conservatory sales teams and - for those of a technical persuasion – there will be hand samples to explain the construction methodology.

Retailers who travel to Birmingham to the Glassex show will see many recently launched products - like Cornice, coloured foils and super duty eaves beam - along with a host of new products making their debut for the first time, including the veranda conservatory.

And so, having introduced the Orangery to the mass market two years ago, is Ultraframe's veranda also about to raise the roof at Glassex?