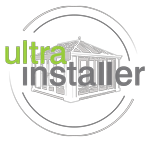 Ultraframe combats Cowboys with new Roof Certificate of Authenticity
4th August 2006
Find an Installer
Friday 4th August, 2006
Ultraframe has introduced a Roof Certificate of Authenticity to combat the problem of disreputable companies passing off inferior products as Ultraframe roofs. The Certificate means homeowners can be confident that they have received the top quality Ultraframe roof that they have paid for, rather than a cheaper, poor quality imitation.
The Roof Certificate of Authenticity is currently available on all roofing systems being produced by Ultraframe and following a successful trial period it is now also being offered to fabricators of Ultraframe roofs. To obtain their Certificate of Authenticity homeowners complete and return by freepost a registration document which is given to them by the fitter on completion of the installation. Alternatively homeowners can request a Certificate of Authenticity registration form via Ultraframe's consumer website. Registration is then verified by Ultraframe and a certificate is sent to the homeowner.
Each certificate is personalised with the property details and address which means it can be passed on by the homeowners with the house deeds should they ever wish to sell their property. It can also form part of the Government 'Home Information Packs' to be launched in June 2007.
Homeowners also receive a useful conservatory Maintenance Guide with their Roof Certificate. The user friendly, full colour guide is a great additional sales tool that installers can offer the new conservatory owner, giving them important advice and tips to help them look after their conservatory and make the most of their investment. Along with the Ultra Guide to Conservatories, which is essential reading for homeowners who are considering purchasing a conservatory, Ultraframe's consumer literature guides the homeowner thoroughly through every step of the conservatory buying process.
Nick Brown, Sales and Marketing Director at Ultraframe, said; "Because we are the market leader in our field, we have experienced some disreputable companies imitating our products. There have been occasions when we have been called to site by the homeowner who has a complaint about their conservatory only to discover that, although the homeowner was promised and has paid for an Ultraframe roof, the installers have fitted an inferior system. The new Roof Certificate of Authenticity prevents this passing off and is the latest step in Ultraframe's commitment to give the consumer peace of mind throughout the conservatory buying process."
To this end Ultraframe also introduced the hugely successful Guild Approved Ultra Installer Scheme in 2004. The Scheme helps homeowners find a reputable and independently vetted installer in their local area. To be accepted for the Scheme, companies have to meet standards set by Ultraframe, The Guild of Master Craftsmen and The British Board of Agrément (BBA). These include producing homeowner references and passing thorough ongoing independent inspections carried out by the British Board of Agrément to demonstrate their ability to do the job to the highest standard and to ensure they offer excellent customer service at every stage of the buying process.
Nick Brown concluded: "Ultraframe continues to work hard to raise consumer awareness of the Ultra Installer Scheme and the Certificate of Authenticity and drive leads for Scheme members. We are also heavily promoting the Certificate and Scheme on our consumer website. The Roof Certificate of Authenticity is a great way for installers to enhance their consumer offering, ensuring that new conservatory owners are confident they will receive the genuine Ultraframe roof they have paid for. Both the Ultra Installer Scheme and the Roof Certificate of Authenticity provide Ultraframe customers with a simple way to differentiate themselves from their competitors by offering an independent guarantee of the quality of their service, installation and product."