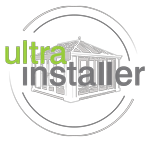 Ultraframe announces 6 new members of its Ultra Installer Scheme
24th November 2006
Find an Installer
Friday 24th November, 2006
Another six conservatory installers have recently met the standards required to join The Guild Approved Ultra Installer Scheme. The scheme has totalled over 100 retail installers this year, demonstrating that establishing your credibility as a professional installer has never been so important. The Scheme which is approved by the GGF and BBA is proving a huge success in providing outstanding marketing support for its members and helping to boost their business with increased sales leads.
The Scheme offers installers a real competitive advantage amongst homeowners who see the Scheme as an instant recognition of quality and gives them the confidence that they are choosing a reliable installation company.
Mark Hanson, Marketing Manager at Ultraframe, said: 'Positive feedback from existing members and the wave of new installers entering the scheme reflects the huge range of benefits the Guild Approved Ultra Installer Scheme offers. Ultraframe, The Guild of Master Craftsmen and the BBA work in partnership with Ultra Installers to help them build their businesses and set higher industry standards which will enhance their reputations and credibility with homeowners. News of Ultra Installer success stories seems to be spreading fast with increasing numbers of installers downloading application forms through the Ultraframe website. As part of the ongoing effort by Ultraframe to ensure the Scheme offers members the best competitive advantage, we are investing in the marketing and support of the scheme to offer installers quality sales leads."
Applicants and members undergo independent inspections by the BBA, which give them a head start in advance of any anticipated Building Regulation changes and increases their credibility with homeowners. Once accepted to the Scheme, installers receive regular training at Ultraframe's School of Excellence to ensure they are always up to date with new products and installation techniques.
Ultra Installers now have the unique opportunity to offer customers an Insurance Backed Guarantee, at special rates negotiated by Ultraframe, and a Certificate of Authenticity on all Ultraframe roofs, which ensures even greater peace of mind for the homeowner. They also have access to a variety of business support benefits from the Guild of Master Craftsmen, such as chip & pin machine discounts and vehicle finance options.

The Ultra Installer Scheme also offers a comprehensive promotional and marketing support package to its members. Added value benefits include access to the exclusive Marketing Toolbox, which helps members to build further awareness and sales by creating personalised marketing campaigns with minimal effort.
Inclusive marketing support, homeowner confidence and increased sales leads all add up to offering installers a unique opportunity for installers looking to boost their business
For further information or to request an application pack call 0845 634 0688.