How do Loggia's insulated columns help improve your extension's U values?
Friday 28th February, 2014

With energy prices at record highs and the spectre of global warming threatening the planet, the need to save energy in the home has never been more pressing. If you have a conservatory attached to your home, it could represent a significant source of heat loss - driving up your winter energy costs and creating an uncomfortable living environment. Loggia conservatories feature insulated columns that boost your home's 'U values' - keeping your home warmer for longer. But what are 'U values', and how do super insulated columns improve them?
The term 'U value' is a relatively recent one, and it refers to a particular building material's ability to retain heat.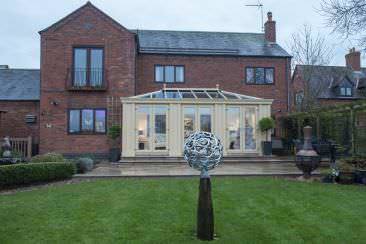 Materials and building components - such as a roof or a wall - that have high 'U values' are prone to high levels of heat loss. So, for your home and your conservatory, the lower the 'U value', the more effective its heat retention properties are.
Why are super insulated columns so effective at retaining heat?
Loggia conservatories have an inner strength that makes them more like fully integrated home extensions. As well as being firmly rooted to the ground, the columns of a Loggia conservatory are insulated with a carbon-enriched substance that has superb insulating qualities. As well as keeping the warmth in your home during the winter, this technology can keep the cold out as well. The addition of a Loggia conservatory to your home can therefore greatly improve its 'U values', reduce the cost of heating your conservatory by up to two thirds and add extra value to your property.
A standard conservatory can be a major cause of heat-loss in the average home. If your conservatory has high 'U values' it could be costing you both in terms of energy costs and the value of your property. Super insulated columns are expertly engineered with state-of-the-art materials. They don't just create stunning conservatories, however, they have the potential to cut your household energy bills. If you want an extension that is as energy efficient as the rest of your home, Loggia conservatories are the perfect solution.