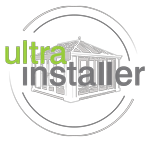 Homeowners in the north take the chill out of winter with Conservaglass Optimum
22nd February 2005
Find an Installer
Tuesday 22nd February, 2005
Homeowners in the north of England are making sure they get the most out of their conservatories throughout the winter by choosing to fit Ultraframe's climate controlling Conservaglass Optimum.
Pennine Home Improvements Ltd, the largest manufacturer and installer of home improvement products in the north-east of England, has reported a huge leap in sales of Ultraframe Conservaglass Optimum.

David Foster, Sales and Marketing Director at Pennine Home Improvements, explained: "Our eight fitting teams install about 14 conservatories a week and our high turnover puts us in a strong position to pick up on market trends. We have noticed that today's homeowner wants to ensure that they get a maximum return on their investment by installing a conservatory that they can use all year round. For this reason Ultraframe's Conservaglass range, which is designed to tackle the problems of overheating in summer and keeping the warmth in during the winter months, is becoming our biggest selling conservatory glazing option. Our customers have given us great feedback about the effectiveness of Conservaglass Optimum and are delighted that their conservatories will be comfortable despite the frosty Northern winter."
Specially developed for conservatories in British conditions, Conservaglass Optimum dramatically outperforms standard sealed units. It has an impressive 'U' value of just 1.1 making it the most energy efficient glass on the market. Based upon technology long established in the USA, the revolutionary glazing material features a unique invisible microcoating with an astonishing ability to keep in the warmth from heating appliances. Conservaglass Optimum also excludes two-thirds of heat-bearing solar energy to keep conservatories 10 degrees cooler during the summer months. In a typical British summer this translates to an amazing 70 extra hours of possible usage per month.
Conservaglass Optimum, which has a 20 year guarantee from Ultraframe, also features a unique external coating which helps rainwater run off the glass taking any dirt deposits with it. This means that the glass requires minimal cleaning and homeowners can enjoy a better view from their conservatory.
It is the combination of these properties that is proving to be so popular with homeowners. David continued: "Not only are homeowners keen to benefit from enjoying their conservatory whatever the weather, they also appear more conscious of being energy efficient in the home. Conservaglass is 25% more thermally efficient than standard sealed units and as a result it can considerably reduce fuel bills. Our installer teams love it too. It comes with a peelable film on both sides which protects the units during transport and installation, meaning a good clean handover."
Linda Doughty, Marketing Director at Ultraframe said: "Traditionally people believe that conservatories are summer rooms, but in reality at the peak of the summer they can be prone to overheating if glazing materials and ventilation have not been chosen carefully. The ventilation that is central to all Ultraframe roofs, combined with the outstanding thermal properties of Conservaglass, ensures that homeowners can enjoy their Ultraframe conservatory all year round.
Introduced by Ultraframe in 2002, the Conservaglass range consists of three products, Optimum, Premium and Classic, all of which have excellent thermal efficiency and sound reduction qualities. With its unique combination of features and benefits the Conservaglass range from Ultraframe is unsurpassed by any other sealed units available on the domestic market and guarantees homeowners maximum use and value from their conservatory installation.