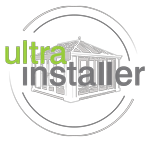 ENTRIES UP BY A THIRD AS CONSERVATORY DESIGN COMPETITION REACHES NEW HEIGHTS
28th February 2006
Find an Installer
Tuesday 28th February, 2006
It is just its third year, but the Glassex Conservatory Design Competition 2006 has attracted a further huge rise in the number of entrants and also seen a marked increase in the overall standard of entries to a level that judges agreed was "quite remarkable in just one year."
The Glassex Conservatory Design Competition, in association with Ultraframe, was created as part of Glassex 2004. Its aim was to recognise, reward and promote excellence in conservatory design, manufacture and installation, at a time when the industry was showing remarkable growth and conservatories were becoming established as a must have for homeowners, as well as an increasingly desirable solution for commercial and public sector landlords.
The 2006 awards have been judged in four categories: Small Conventional, Large Conventional, Innovative Design and Large Span (portal), with the addition of an overall 'Supreme Winner' who will receive a prize of £5,000-worth of state of the art specialist conservatory IT equipment from sponsor Ultraframe.
This year's entries were believed by all of the judges to be of remarkable quality, with those awarded the winner and runners up positions in each category considered by judges to be "quite exceptional by any standards."
Judging panel member Gary Richards, one of the industry's most experienced conservatory manufacturers and installers, said: "The variety of designs surpasses even last year. I am very impressed to see the level of aesthetic and structural design across all entries. There was no standardisation in design, each entry was unique in its style and features."
Andrew Thomson, Design and Development Director at Ultraframe concurred: "There is a great deal of variety and an incredibly high standard across the board, with industry wide representation. I am delighted to see the ways in which conservatories have been used to enhance homes and how the flexibility of the conservatory systems has allowed creative expression."
The key purpose of the competition is to encourage professional conservatory designers, manufacturers and installers to pursue excellence in every aspect of their business, and to prove that innovation is possible using both conventional conservatory styles and systems, as well as bespoke methods. Ultimately of course, it is the public and professional specifiers who will be the judge of the industry.
Barry Dunlop, whose company eBuilders runs the Conservatories Online homeowner advice website said: "I was very encouraged by the level of entries and the time and effort taken with each. Innovation, both in design and use of conservatories was a key theme in this year's competition. I am highly impressed to see how conservatory design has moved on to overcome design problems and become so solution orientated."
Another consumer-focused judge Jason Orme, Editor of Homebuilding & Renovating magazine and its newly launched sister title Move or Improve was impressed with the boldness of some entries: "There have been some outstanding entries in each category and where installation companies have been brave with their imagination they have been most successful with their designs. It is very encouraging to see the many interesting ways that conservatory designs can be employed to maximize the use and enjoyment of the home."
Colin Poole has worked extensively in the conservatory business in the UK and United States, where larger, portal-style conservatories are popular. He said: "The overall standard of conservatory design is getting higher and this year and it is very interesting to see the rise of the larger span conservatories. The use of portal frames combined with creativity and imagination has made the design and structure of the entrants very pleasing to judge."
And architect Chris Cooper also enthused about the standard of entries: "Design standards continue to improve with exemplars such as these stimulating both the aspirations of customers and the response from the trade."
The category winners and runners up, together with the Ultraframe Merit Award winners and the 'Supreme Winner' of the Glassex Conservatory Design Awards for 2006 were displayed in a Pavilion at Glassex. The CDC Pavilion was specially designed and constructed for the event by the Ultraframe design team and hosted the presentation ceremony when the Supreme Winner was also announced.
Jim Hay, Managing Director of EMAP Maclaren, which organises Glassex, says he believes it is crucial that such industry competitions take place: "It is my experience that competition, either through industry or events such as the Glassex CDC, is a very effective way of driving up quality and creative thinking, and that is the evidence of this event. What better stimulus can there be for a company to improve its performance than seeing what others in the same business are offering and what they may have to compete with one day?"
Vanda Murray OBE, Managing Director of Ultraframe was enthusiastic about the company's role in the event: "At Ultraframe we have taken the view that the raising of industry standards, will benefit the industry as a whole, helping to encourage consumer desire, confidence, and quality in every aspect of what we do. This year's entries showed a real commitment to innovation, integrity and quality in design, manufacture and installation which are all values shared and practised by Ultraframe. We are proud to support this market leading initiative and recognise the industry's most talented installation companies."