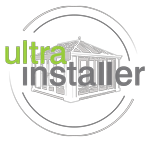 The tops things to consider when choosing a conservatory installation
11th August 2020
Find an Installer
The top things to consider when choosing a conservatory installation!
Ultraframe has some top tips to consider when choosing a conservatory installation. When you are thinking of adding a conservatory to your home, there are so many things to consider and avenues to explore with a lot of information to take in. Therefore, it is important to plan.
At Ultraframe, we have been manufacturing conservatory roofs for over 30 years therefore have years of conservatory experiencee and knowledge to help you plan a conservatory installation to run smoothly.
The top things to consider when choosing a conservatory installation? Read on to find out!
The top things to consider when choosing a conservatory installation? Your Questions Answered
Below are some top tips to consider when you are choosing a conservatory installation, the more plan the higher chance of you being happy with the finished conservatory!
Purpose:
When considering your conservatory, planning on why you want a conservatory and how you are going to use it is important. A conservatory can transform your home to create extra space for several different functions e.g. living area, extend your kitchen or create a play area. Think about how you will use the room as this will be key when deciding on the materials to be used. The purpose is when choosing a conservatory installation.
Position:
The position of a conservatory installation is often overlooked, how the sun travels over the conservatory during the day may affect your conservatory design. If your conservatory is south facing it will likely get a lot of sun, so you may consider a glass specification that blocks out the sun rays and heat.
If by contrast, your conservatory is more shaded you want the choice to add insulated walls, pelmets, or super-insulated columns to make the room cosier.
Also, you will need to decide where you would like the doors to link to the house. Are you going to use your current patio doors for example?
Some conservatories can be open plan with the rest of the house, but you will need to consider thermal enhancements like a solid roof if you choose this option. Your Ultra Installer will be able to advise on Building Regulations.
Materials:
There is a wide range of materials which can be considered for your conservatory installation e.g. hardwood, PVCu and aluminium. Each of these materials has its benefits and the age and style of your property can affect your choice of materials for your conservatory installation. At Ultraframe, we manufacture conservatory roofs are PVCu and aluminium, as well as solid roofs. All our conservatories are available in a range of colours and finishes to match or contrast with your house.
Type of roof available:
The roof type you choose for your conservatory installation will depend on several different factors: personal preference, light into use, energy efficiency, privacy, room use and much more. Ultraframe has a range of conservatory roof options which should be considered when choosing a conservatory installation e.g. glass roof, orangery deck roof, solid roof, and tiled roof.
Installation time:
A conservatory is much faster to build than traditional extensions and typical conservatories take between three and four weeks to build, including all snagging and finishing off. Ultraframe products like Ultraroof and Livinroof is pre-fabricated offsite to minimise disruption and can be fitted and watertight on the first day and finished in just a few days. A conservatory installation for a glass roof normally takes 1-2 days to fit.
Your installer will be able to explain your conservatory roof options and the estimated conservatory installation time.
Do I need planning permission for my conservatory installation?
You may not require Planning Permission for your conservatory installation unless you have a listed building, live in a conservation area, if the conservatory will cover more than half the area surrounding your house or if the conservatory roof is higher than the highest point of your existing property.
For replacement conservatory roof, Planning Permission is not normally needed because the previous structure would already have Planning Permission. However, if you are replacing an existing conservatory with a solid or tiled roof then Building Regulations may be required.
It is a good idea to check with your local authority or installers regarding Planning Permission or Building Regulations and they will be able to advise.
Contact your nearest Ultra Installer
The tops things to consider when choosing a conservatory installation? Your Nearest Ultra Installer has the answer.
Use our search tool to find an approved Ultra Installer in your area with years of installation experience and knowledge so they can plan the conservatory installation to run smoothly. Whether you want an orangery, conservatory, or house extension, you will be able to get answers to your questions and some guideline prices too.