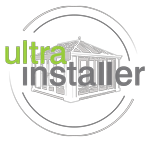 Our beautiful Ultraroof extension has made the whole house warmer
6th January 2021
Find an Installer
Our beautiful Ultraroof extension has made the whole house warmer
Shay & Terry Cornford added a beautiful Ultraroof extension to their modern detached home and have found that not only has it created a stunning new living space, but it has also made their home warmer.
Explaining more about the reasons for choosing to add an Ultraroof extension to their home, Shay said: "We wanted a garden room for two reasons - to be able to enjoy the garden without getting blown away (we have some very strong winds!) and also to enhance our privacy - we can now enjoy the garden without being overlooked."
Working with their Ultraframe installer, Southern Conservatories Ltd, the Cornford's settled on a stunning design which features a full height wall, a floor-to-ceiling picture window on the gable end, and a full elevation of bi-fold doors. Finished in anthracite grey, the extension is ultra-modern and complements their red brick home perfectly. Grey tiles on their Ultraroof finish off the modern look, while a full height glazed panel in the roof ensures that the interior of the extension is bright and light. The resulting extension really is beautiful and it's no wonder that 8 out of 10 homeowners prefer Ultraroof's good looks vs its competitors.
We now use less fuel
However, Ultraroof does not just look beautiful, it is also the most technically advanced tiled roof on the market – making it the strongest and the warmest roof of its type. In terms of thermal efficiency Ultraroof is unrivalled. It is a complete warm roof system with a U-Value as low as 0.13. So, what does this mean in terms of how warm it is? As Shay tells us, it means that not only is an Ultraroof extension extremely warm, but adjoining rooms will also benefit from its outstanding thermal credentials. Shay said: "We love our extension and spend so much time sitting in it, day and night! We are pleased with the lovely thick insulated roof, which is cool in summer but retains the heat in winter. It has made the whole house warmer and I know we are now using less fuel."
Despite Ultraroof being so technically advanced, it is a surprisingly cost-effective system. Had this design been topped off with another brand of tiled roof, an expensive steel goalpost would have been required to support the bi-fold doors but Ultraroof's immense strength means that this is not required.
As well as being thrilled with their new living space, Shay & Terry were delighted with the service they received from Southern Conservatories Ltd, saying: " We visited the show site after seeing the reviews online and following a meeting with Adrian we picked Southern Conservatories Ltd because we could see many different designs and get a real feel for what was on offer. There was no hard sell, and we were able to discuss our needs when Adrian came to our property, he was excellent! I would have no hesitation in recommending both Southern Conservatories Ltd and Ultraframe."
A beautiful project and a very worthy winner of the Ultraframe November 2020 Installation of the Month competition.