Will I need planning permission for a new loggia?
Loggia conservatories are incredibly stylish and can make a beautiful extension to your home. A unique design concept inspired by the Renaissance period, they are architecturally stunning, often with intricate, delicate features, and most manufacturers provide loggias in a range of exquisite designs. Built with style and with the solidarity of an extension, a loggia can also add significant value to your home, at a surprisingly affordable price. This will be important if you wish to sell your home at some point in the future.

They are sought after by homeowners all across the country, but the question on everyone's lips is 'will I need planning permission for my loggia?' The answer is probably not, as they are classed as a conservatory, and conservatories are usually exempt from planning permission. However, there are occasions when you will require permission to build a loggia and it's important to study these carefully before you start building work.

When You'll Need Planning Permission

Adding a loggia to your home is considered to be a permitted development that does not require planning permission,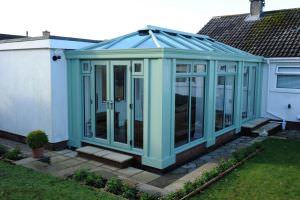 but this comes with a number of conditions that you'll have to work within. To wave the need for planning permission, your loggia must:
be made of at least 75% transparent material.

have at least 50% glazed walls.

have a floor area of no more than 30 sq m.

be at ground level.

have a lockable door separating it from the rest of your home.

have a heating system controlled by a thermostat.

must not be connected to a listed building.

must not contain drainage or sanitary facilities (i.e. toilets, kitchens)

built in accordance with Building Regulations concerned with toughened or safety glass.

As long as your loggia is built in accordance with these conditions, you shouldn't need planning permission to go ahead with your build, which lets you get on with it straight away with minimal fuss. Before going ahead, you may also want to check that your property is not considered a 'new build', as it may face additional planning requirements that you will need to take into account.

Don't worry though, your Ultra-installer will be able to answer any questions you may have and will advise if planning permission is required.