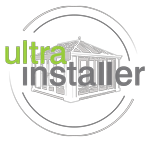 Why are Ultra installers required to provide an insurance backed guarantee?
6th September 2013
Find an Installer
What is an Insurance Backed Guarantee?
If you have a conservatory or orangery put in by an Ultra installer, the safest way to protect the work done and your investment is for them to provide you with an insurance backed guarantee.
A regular guarantee by a company to its customers is a very nice thing, but when we're talking home improvements, we're dealing with permanent or long-term alterations to your home. Should anything go wrong within the time of the guarantee, you want the reassurance that the installer will still be here to help you sort it out. A lot can happen in a decade or two.
That's why we feel much better (and we hope you will too) when our installers are able to offer you an Insurance Backed Guarantee (IBG) where the insurers promise that for the duration of the guarantee, should the Ultra installer cease trading, your guarantee will still stand. The IBG will only be used then.
How do I know if I've got all the right papers for my IBG?
If you have used the 'Instant Quote' facility on the website which registers your interest in buying a conservatory or orangery, it is the responsibility of the retailer or installer to show you the policy papers for your IBG.
What you should look for
- If the retailer has taken a deposit from you, this should be covered.
- Work in progress and failure to comply with Building Regulations should also be covered.
- The full value of your installation should be covered
- When you sell your home, if it is within the stipulated time of the guarantee, the IBG should be fully transferable to the new owners.
Why is it an important part of the aftercare package?
The ability to follow through on a promise is an important thing for any company trading in building and home improvements. If your installer is unable to follow through on the promise that their building work is up to the standards that Ultraframe and you expect, and then that installer goes out of business, so they are unable to deal with the issues, your IBG is a fall back position where you can recoup your losses and deal with the problem. This is part of our code of practice, which we and our Ultra installers stand by.