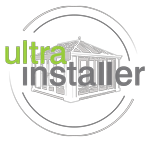 What Are the Main Differences Between Glass and Polycarbonate Conservatory Roofs?
20th May 2013
Find an Installer
Many homeowners keen to add value to their properties and maximise their living space are investing in a conservatory. A conservatory is a room consisting of a glass roof and walls, usually attached to a house on one side. It can be used to fulfil many purposes and is often used as a greenhouse, a sunroom or even a kitchen.
As well as being incredibly functional, conservatories are also wonderfully visually pleasing, serving as a stunning addition to any home. If you've been considering investing in a conservatory for your property, you will need to decide whether yours should have a glass or a polycarbonate roof. Let's look at the features and benefits of the two.
Glass Conservatory Roof vs Polycarbonate Conservatory Roof
Polycarbonate Conservatory Roofs
The main draw of polycarbonate conservatory roofs is their price, being 3-4 times cheaper than a glass roof. They are much more affordable than glass roofs and so may be a better choice if you are working on a strict budget.
Although they lack the natural insulation benefits of glass roofs, it is now possible to buy solar inserts for polycarbonate roofing, which allow homeowners to enjoy the luxury of a warm, cosy conservatory but without the expense.
Polycarbonate conservatories aren't quite as aesthetically pleasing as glass conservatories, but this is something you would have to sacrifice for low cost and functionality. Why not look for an Ultra Installer near you for more advice?
Glass Conservatory Roofs
Glass is energy efficient, helps retain heat and will keep you warm during winter. This can help save you money on your energy bills by ensuring you have little need for energy-hungry heating appliances like electric heaters.
Another major benefit of using glass for your conservatory roof is that it is less prone to scratches and is weather resistant, which will be important during the winter months when environmental conditions can be harsh.
---
---
Still Undecided?
Polycarbonate and glass conservatory roofs come with different benefits attached. Glass conservatories retain heat and, are visually pleasing and less prone to damage, whereas polycarbonate roofs are more affordable.

What if You Could Get the Best of Both Worlds?
If you have your heart set on glass, why not explore some high-performing alternatives that'll change the way you think about conservatory roofs. Ultraframe is constantly researching and innovating to make sure its products exceed – rather than just meet – its customers' requirements and are simple as possible for its approved network of Ultra Installer to fit.
Once upon a time solid and glass replacement conservatory roofs were separate entities. Now you can enjoy the attributes of both without making any concessions:
Livinroof
Light can create a sense of space in even the smallest of rooms. Livinroof features aluminium panels that can be replaced with shaped glazed panels that can be positioned anywhere, which means you'll be able to decide where the light falls to create your desired effect.
Livinroof is a solid roof that will transform your conservatory – whatever its size might be – into a room that is replete with light and comfortable always, thanks to the composite external panels and slab insulation that will prevent much-needed heat from escaping.
Your conservatory will stay warm naturally because of the high-performing Conservaglass that blocks out up to 83% of the sun's solar rays. By making Livinroof your replacement conservatory roof of choice, you'll be able to stop your room from overheating during winter and stop warm air from escaping at all other times.
Livinroof:
Includes cornicing to hide your guttering from view
Is decorated in urban grey to make its design universal
Comes complete with an internal pelmet ceiling system
Is prefabricated, which makes it very easy to install

---

---
Ultraroof
Just like its close relative, the Livinroof, this solid replacement conservatory roof is versatile in its construction. Instead of using tiles throughout, you can break up the design by inserting glass panels or Velux windows to let in more light.
The capping used in the ridge and hips of your roof can be provided in a modern aluminium or traditional tile capped format. Fascias in a range of colours – including rosewood and oak – can be supplied to improve your roofline.
The internal pelmet included in the design of the Ultraroof can be used to accept speakers and spotlights that will make your new conservatory feel more like a room and turn it into a space that can be used for a variety of purposes.
---
---
Find an Ultrainstaller Near You
Use our free search tool to find an approved company near you and find out more about the benefits of an Ultraframe replacement conservatory roof. You can also contact us at the same time via an online form that will allow you to request information about our conservatories, orangeries, lantern roofs and other products.