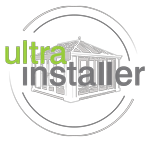 Why Work from a Shed When You Can Use a House Extension Instead
27th September 2013
Find an Installer
Instead of telecommuting, you can work from the bottom of your garden. But why huddle over your laptop in a cold shed when you could conduct your business in the comfort of a relaxing house extension instead.
A shed won't give you the privacy you need to attend to make those all-important telephone calls; using a house extension as your primary space for speaking to important clients will give you the privacy you need.
Instead of worrying about potential intrusions from your partner or children, you'll be able to relax, knowing that your house extension is officially recognised as a place of business - so you can close the door and concentrate.
Are You Serious About Your Business? It's Time to Shop for a House Extension
Those who don't want to splash out on a house extension usually find themselves confined to the garden shed. While there's nothing wrong with working in your garden shed - children's author Philip Pullman wrote his bestselling trilogy 'His Dark Materials' in one after all - getting it 'office-ready' can prove costly. You're going to need power (including lighting) and heating. As sheds are hardly known for their insulation, heating during the coldest snaps of winter will be very expensive.
Explore Our House Extension Range for Inspiration
Deciding that you want a house extension instead of a shed to run your business is a step forward, but you then must make important decisions about the design aspect of your new room.
A short summary of our popular Extensions range follows, which will hopefully help you make the right choice. Why not contact your nearest Ultrainstaller afterwards for more details?
Performance Glass Extension
Building a house extension that is compliant with building regulations, but uses no interlinking door to connect your new structure to the main body of your house, is not always possible. Fortunately, our Performance Glass Extension overcomes this issue – so you will benefit from an open-plan style room that is less secluded.
If you are planning on running a business from home, the Performance Glass Extension could bring you into occasional contact with other members of your household. During the evenings, though, it will double-up as a space that can be used to relax in after everyone's finished eating – working almost like a second lounge area.
The Performance Glass Extension will provide you with a working environment that's always comfortable. The super-insulated columns that characterise the design of your new house extension will provide thermal efficiency levels five times higher than a brick pier equivalent of the same size, saving you money on heating.

---
Livinroof Extension
Your house extension will function primarily as an office; this doesn't mean you should compromise on light and access. The Ultraframe Livinroof extension has the span width needed to accommodate bi-folding doors that will make your working environment a bright and positive space to spend time in.
The conservatory roof used in your new house extension will expertly combine the best benefits of solid and glazed systems. This means that your new office will be flooded with lots of light but still feel comfortable. You can opt to keep your interlinking doors or remove them to create an open-plan design.
Ultraroof Extension
The Ultraroof Extension is not dissimilar to the Livinroof, in that it's a hybridised system. In this case, though, Velux windows can be added instead of glazing – so you'll have a bit more control over the eventual design.
An internal ceiling pelmet that runs around the perimeter ceiling allows for the installation of lights and speakers. This will provide you with the perfect set up for your business and a room that can be used for relaxing.
---
Undecided? Ask Your Ultra Installer for Advice
If you can't decide between the three house extension options, Ultraframe offers, use our free search tool to find a reputable company in your area. Our nationwide network of Ultra Installers understand our products in detail and will be able to answer your questions- whether they're design related, to do with planning or technical in nature.
Get in touch with your nearest Ultrainstaller today for advice and free prices.
Would you like to talk to us directly first? During the search process, you can submit a contact form to our team and select which products you're interested in. We will then get in touch to discuss our range of orangeries, replacement conservatory roofs, lantern roofs and any other products you want further information about.