Internal Pelmet Launched by Ultraframe
Wednesday 16th November, 2011
With fashion and tastes changing, there has been a dramatic shift in the market from standard conservatories, to 'crossover' products such as orangeries which bridge the gap between a conservatory and extension, and blur the garden/home interface. However, while customers like the look and feel of a full orangery, they sometimes find their available funds fall somewhat short.

With this in mind, it has never been more important for system manufacturers to work hard to explore and open up new opportunities and markets. They need to demonstrate a strong commitment to innovation, investing time and resource into the development of 'value-add' improvements, as well as the advancement of entirely new product categories.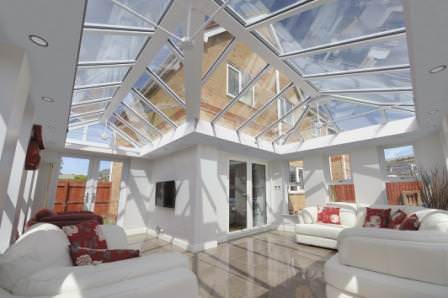 It is this continuous R&D that will provide retailers with an extensive range of solutions to suit every possible taste and budget, and help them differentiate themselves against the competition.

A Whole New Light

To provide a solution and give retailers a systemized, configurable approach which will allow them to better grasp the 'volume' orangery opportunity , Ultraframe has developed a new solution which gives the consumer benefits of aesthetics and usability without the need to go to the expense of the current flat roof versions.

The new product is called an Internal Pelmet.

As one has come to expect from Ultraframe, the company provides the full package under one holistic guarantee. Internal Pelmet has been specifically designed to give consumers the feel of an extension, but at the price point of a conservatory, whilst avoiding Local Authority 'red tape' in most instances.

Displaying all of Ultraframe's engineering prowess, the product is made from coated steel profiles which form a 'ladder' framework that is pre fabricated in Ultraframe's factory prior to site attachment to the roof. The steel framing and roof are structurally integrated and the complete system is fully configurable, with internal projection available between 300 and 1200mm.
The ladder framework is then clad with 12.5mm plasterboard before a finishing skim coat – once decorated, this additional wall area gives a cohesive and substantial 'real extension' feel to the space.

Unlike other manufacturers systems which display serious drawbacks, the internal pelmet can be used for pitches between 15-40 degrees and the designer has a choice of using window frames below or brick piers. Furthermore unlike other systems or even those that retailers fabricate themselves the internal pelmet doesn't need any additional supports like brick piers but instead it relies on support at both the eaves beam and through fixings to the glazing bar ( but no concerns here about potential leakage as the fixings are through the centre of the 'wine glass' aluminium extrusion).

Ultraframe's electronic Structural Design Guide – embedded in it's U-Design visualization software – also takes into account the weight of the steelwork ladders and calculates the appropriate physical upgrades to the roof spec depending upon postcode. Home made systems that are attached to Ultraframe roofs 'on the fly' or indeed alternative system companies cannot undertake these sophisticated analyses.

Available in all regular shapes,- as one would expect to ensure compatibility with the most configurable roof on the market - including Victorian, Lean-to and Georgian options, as well as bespoke designs, the system is on the same lead time as the roof for confident ordering and planning to aid speedy on-site installation. It can be used with standard or super duty eaves, with box gutter and bolsters, and accommodate variable pitch around the hip and ridge.

The new system also offers improved solar control and thermal performance as a 25mm Heatguard 'cloaking-screen' is used, ensuring it looks perfectly finished when viewed from any bedroom window above. The cavity in-between the glass and cloaking-screen is also ventilated to minimize interstitial condensation.

Looking the Part

The Ultraframe internal pelmet allows consumers to enjoy the light from a conservatory but with the 'living room' feel of installing an extension. It is designed to be a versatile and stylish living space which can be used all year round and to provide more privacy than a standard conservatory.

In a word, it's all about livability!.

The greater sense of solidity created by internal pelmet also allows for more styling, decorating and furnishing options internally, with the perimeter ceiling perfect for integration of mood lighting or the integration of sound systems. The ability to refresh a bigger wall area with new colour schemes is a significant advantage, particularly over conservatories with ribbon windows all the way round.

Externally there is an option to change the visual dynamics by using a Cornice for a smooth finish and the prudent use of external colour too creates even further design options.

The interior height of the Ultraframe Classic roof provides a focal point through which light can flood into the home, allowing a view of the sky above.

A Credible Solution

This innovative new product joins the family of other complementary Ultraframe Classic technologies such as Utopia, Ultraframe Shades and aluminum roof to provide retailers with further differentiation in a crowded market place.

The roof and steelwork ladder framework – clad with 12.5mm plasterboard - are structurally integrated and as standard with all Ultraframe systems and solutions, the internal pelmet has been extensively tested in the dedicated research and development facilities at the company's head office. As Ultraframe provides the solution as a pre-fabricated and complete kit, it attracts one single holistic guarantee of ten years for the roof and perimeter ceiling.

The kit arrives on-site with the usual high quality installation guide to further aid smooth fitting.

A One-Stop-Shop

Due to consistent product innovation and development, Ultraframe has built up a reputation of being an industry leader which is able to provide a 'one-stop-shop' for its customers. By utilising its 'core' product solution as a starting point, it has been able to help retailers tackle all the varying market segments, from the budget conscious right through to those wanting a high-end, top of the range solution.

Internal pelmet is the latest innovation to be added to Ultraframe's long list of industry innovations, all of which are designed with consumer wants and needs front of mind and are helping to transform light and space around the home. Ultraframe is helping hard pressed retailers by introducing them to new opportunities from known and trusted partners which will enable them to be more effective when backed with high quality deal closing marketing materials.
-Ends-