HOW TO SURVIVE CHRISTMAS WHEN YOUR HOUSE IS BURSTING
Tuesday 15th December, 2015
Christmas is so close you can almost smell the sprouts wafting through the air. But despite the festive cheer, mulled wine and enough presents to sink a ship, Christmas can be utterly stressful if you've got a house full of people. We might not be able to offer up any culinary words of wisdom but we know a lot about space planning, space usage, how to keep Auntie Flo away from Auntie Jean and so forth. So with a little humorous good cheer, follow these tips and you'll be well on your way to a harmonious Christmas.
Tip One: Bums on seats. It's tempting to stick your least favourite relative on a camping chair while they get stuck into the turkey, but be kind. It's not rocket science to work out if you've got enough chairs or table space for all your guests but think about seating children first for a 'quick lunch' and savour all your hard work for your adult guests while the kids play.
Tip Two: Conservatory makeover. A conservatory is worth its weight in gold at Christmas. But, we all know that older conservatories can be less than ambient during winter, so think about how you're going to heat the space safely. Fan heaters or worse, electric bar heaters, aren't ideal with children running around so consider investing in panel style heaters with a built in thermostat to keep your guests warm. Perhaps a conservatory transformation might be a good investment for 2016 in the shape of Livinroof. Add in some Loggia columns and hey presto you've got yourself an extra room you can use all year round.
Tip Three: most people love open plan living space, seamlessly blending eating, living and relaxing. It's the perfect layout for Christmas if you're entertaining lots of people. Similarly Christmas also seems to generate lots more stuff, especially if you've got small children, so make this your last crowded Christmas and consider a simple, straightforward single storey extension from our Extension Plus Collection – you could have it by Easter when you could do it all again!
Tip Four: space to play – conservatories are a fantastic escape zone for adults and children alike. Think about how you can utilise the space for children to play – set up the scalextric, train set…or create an adult space. Everybody loves a natter and a snooze after lunch, so create a cosy, warm space for your guests to relax.
Tip Five: we all look forward to some well deserved time off at Christmas, a chance to catch up on all the jobs you've been meaning to do all year. If you are planning to use your conservatory space then think about giving it a healthcheck – look for leaks, condensation, blocked gutters and so forth. And if that's too much get your local Ultrainstaller to come and do the job for you!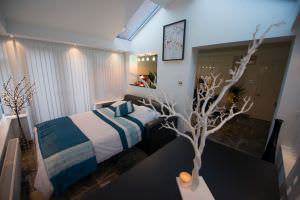 Tip Six: with taxis at a premium on Christmas Day, a conservatory is a fantastic space to host your overnight guests. You might need to consider the privacy element, but with the addition of a cheap and cheerful sofa bed, a simple conservatory provides the perfect 'pop up' bedroom especially with the addition of a Livinroof which combines solid and glazed sections – perfect to prevent prying eyes from neighbouring properties.