How Do You Insulate a Cold Conservatory?
How do you insulate a cold conservatory? There are plenty of ways that your conservatory could be losing energy. However, it's usually to do with the materials in its design. If you have an older build, then it may use single-glazed glass or profiles that aren't weatherproof. Because of this, you don't get a lot of protection from the cold in your conservatory.
When the temperature drops, cold air can travel through your glass with ease. Not only that, but wind and rain can cause the frames of your conservatory to crack, creating even more space for wind to enter your home. As a result, your space can become cold quickly. Not only that, but it can become too warm in the summer without a lot of protection.
You could choose from a range of DIY solutions to make a cold conservatory warm again. However, these only have so much of an effect. Not only that, but some low-tech solutions don't look good at all, meaning they might ruin the style of your space. Also, they won't fix the root problems that cause the cold to be such a problem in your conservatory.
That's why the best way to insulate a cold conservatory is to choose replacement parts from Ultraframe. We offer brand-new roofing and double glazing, helping you to make your old space warm again. And, if you're tired of the build, why not choose a new one? We offer a wide range of the UK's most popular conservatory styles, and they're fully customisable!
DIY Methods to Insulate a Cold Conservatory
If you want to make your conservatory less cold quickly, you could try some DIY methods. Some of these can have a smaller impact on the insulation of your space. For example, you could attach laminate floor underlay with silver reflective foil to your conservatory roof panels. However, this doesn't add a lot of insulation, and it could end up losing more natural warmth from the sun than you gain back.
Another method is to buy insulation and fit a layer of it to your roof. While this will make more of an impact, it won't stop the greenhouse effect from playing havoc with your space. When the heat drops, single-glazed glass reflects it into the room, and the cold air will still intensify.
One decent DIY solution to a cold conservatory is through blinds. You can install blinds for the windows, as well as roof blinds for the ceiling. That way, you can put them down in the cold weather to get an extra layer of warmth, but you can open them to reveal lighting. However, if you want to fix the problems causing a cold conservatory, there are much better ways.
FIND YOUR LOCAL APPROVED ULTRAFRAME INSTALLER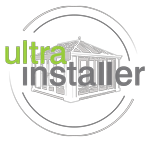 Replacing the Glazing in a Cold Conservatory
If your space uses single-glazed glass, then it could be the main cause of why your conservatory is so cold. However, rather than try to minimise its damage, why not take it away?
Our units in our conservatories use two panes of advanced glass, with a layer of argon gas in the middle. The gas reduces cold air's impact, meaning you won't feel it nearly as much inside your home. Additionally, double glazing can reduce problems like condensation and even makes breakages less likely.
You don't have to choose double glazing either. We even offer triple glazing units for your home. All of our glass, though, can improve the thermal efficiency of your conservatory.
Replacing the Roof in a Cold Conservatory
The most likely cause of a cold conservatory, though, is the roof. It's because the roof of your build comes into more contact with the sun than any other component. As a result, getting the right one is crucial for staying warm and comfortable. Your conservatory, though, may have a glass or even a polycarbonate roof, materials which both struggle with insulation.
At Ultraframe, though, we offer our stunning range of conservatory roofs as a replacement option. While we have double glazed roofs, you could also opt for something more robust. You could choose a ceiling with lightweight tiles, or opt for our spectacular Livinroof solid roof system, which can come with partial glazing or a roof lantern!
All of our roofs are fully customisable too. Our solid roofs can come with in-built LED lighting and speaker systems, while you can modify the colour of every tile in our tiled roofs to create unique patterns. And, no matter the design, you'll get a made-to-measure fit from a qualified Ultraframe installer in your area. That way, there'll be no space for the cold to get into your conservatory.
Enhance Your Cold Conservatory with Ultraframe
With Ultraframe, it's never been easier to make your cold conservatory warm again.
You can explore our full range of roofing and other features today. And, if you'd like to find out more about our products, get in touch with our friendly team!