A Pawtal with a Difference!
Stockport based Ultra Installer, Cheadle Glass have recently carried out an installation with a difference – a stunning portal structure which houses a large swimming pool and hydrotherapy spa for dogs!
Working closely with ultraframe and the building contractor, Yorklodge Developments, Cheadle Glass created the housing for the first canine hydrotherapy pool of its kind in Cheshire, at Groom & Room, a highly respected dog-grooming centre & kennels which can now offer a full range of canine services. Sophisticated winching equipment attached to one of the main portal beams ensures that dogs up to 28 stones in weight can be safely transported from the spa into the main hydrotherapy pool for their treatment.
Whilst the idea of a dogs swimming pool may sound comical at first, the benefits of hydrotherapy to elderly or infirm dogs are amazing, with one minutes swimming in the pool being the equivalent of the dog running for 1 mile on land. The state of the art pool at Groom & Room can also be used 'just for fun' with doggy pool parties looking to be a distinct possibility! The impressive structure is glazed with high performance ultraframe Conservaglass to ensure a comfortable interior temperature for the dogs no matter what the weather, whilst the subtle blue tint ensures a light bright environment.
Phil Alley of Cheadle Glass commented: "When we were approached by Yorklodge Developments to help create a portal structure which would house a dog swimming pool we were thrilled to get the chance to work on such an unusual project. There have been many challenges along the way to create a portal that not only complemented the host property, but also provided the structural stability needed to allow Groom & Room the confidence to carry dogs of up to 28 stones in weight in the hoist on the main portal section. We knew that the market leading ultraframe system with its innovative features and outstanding level of structural integrity could handle this unique job."
Groom & Room has been established in Knutsford for several years and interest in the new service on offer from Groom & Room has been high, with appointments already pouring in from existing clients, as well as referrals from local vets for dogs with a range of conditions, which can benefit from hydrotherapy. The owners of the Groom & Room canine complex are thrilled that the hydrotherapy centre is now up and running after several years of careful planning and research.
Craig Keighley, Area Manager for ultraframe worked closely on the project with Cheadle Glass. Craig commented: "The owners of Groom & Room had been exploring the possibility of a hydrotherapy pool for several years but were unsure as to the best type of building to house the complex in. The chosen portal structure which was created with the help of the team at ultraframe and Cheadle Glass looks amazing. This is one of the most challenging projects I have been involved with during my 10 years at ultraframe, particularly ensuring that the portal frame could carry the weight of some extremely large dogs in the winch and also ensuring that there was enough roof height to operate the complex machinery. With the unsurpassed technology of the ultraframe system combined with ultraframe Conservaglass, it's a great place to for the staff and dogs at Groom & Room to enjoy all year round, whatever the weather."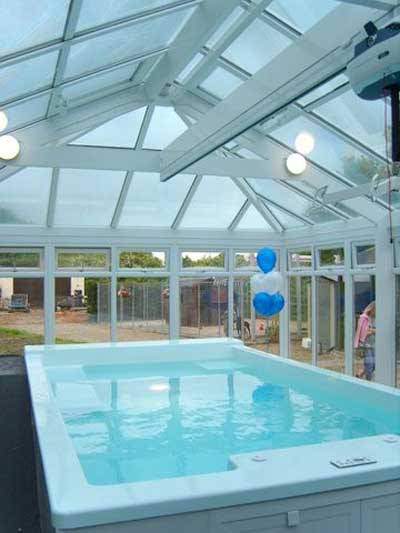 May '08
- Ends -
Ultraframe deliver innovative and top quality conservatory roof systems for the trade which suit all styles, all applications, all consumer types and which offer excellent value for money. The market leading company invests heavily in research and development to provide the most technologically advanced and stylish conservatory roofing solutions, maximising light and space. Ultraframe are at the forefront of conservatory design and its systems are mainly used in the home improvement sector but also in new housing and commercial applications in the UK and Europe. In 2006 the privately owned Latium Group, which has many interests within the glass & glazing and home improvement markets acquired Ultraframe. The Latium Group is owned by entrepreneur Brian Kennedy. For further media information:
Mark Hanson
Ultraframe (UK) Ltd
Salthill Road
Clitheroe
Lancashire
BB7 1PE
01200 452375
Mark.hanson@ultraframe.co.uk