Location: Chew Stoke, Bristol
System: Loggia
Ultraframe network partner: Greenway Home Improvements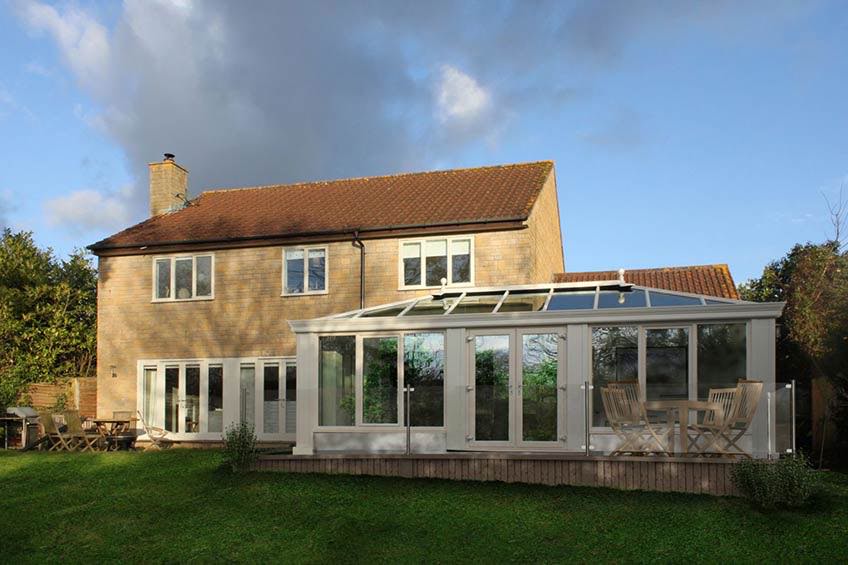 This impressive detached home in the desirable village of Chew Stoke, just outside Bristol, had recently undergone significant renovation when the family decided that they needed additional living space on the ground floor. Having previously owned a home with a traditional conservatory, the family decided that they wanted to build an extension with all the light and space of a glazed structure but wanted to significantly improve upon the thermal performance of their previous conservatory, allowing them to be able to open up the space to their existing open plan layout, without having to experience completely variable changes in temperature.

The couple had previously committed to a brick pillar orangery structure, that was until they were shown the Loggia literature by Ultraframe network partner, Greenway Home Improvements www.greenwayupvc.com. Director Andrew Green had attended the Ultraframe launch of Loggia and was seriously impressed by the thermal performance of this type of structure – completely new to the market – and for the first time in the conservatory industry – a flexible space that can be designed to blend in, or create a stand out feature on any home. On seeing the Loggia at the Ultraframe launch, Andrew immediately thought of the Chew Stoke property and contacted the property owners. The family switched their decision to install a (more expensive) orangery type structure and decided that the thermal performance and the ability to design the Loggia to blend with their home was the preferred route.

Andrew Green from Greenway comments: "the Loggia is an impressive structure. Not only does it have all the quality attributes you'd expect from an Ultraframe system, but it's entirely different to anything else in the market. Our customers, including the Chew Stoke family, love the adaptability of the Loggia. This family decided to opt for the cream Loggia to blend in with their impressive detached home – but by the same token, other families are choosing urban grey and landmark green to create a real stand out feature, combining it with a really broad range of window and door designs to create a totally unique space. That's the beauty of this system – it's as unique as every home owner that walks into our showroom."

In addition to the incredible thermal performance of Loggia, which is easily as efficient as a fully insulated, brick built extension, the Loggia is also winning customers for its efficient and no hassle on-site installation. Joe Martoccia from Ultraframe comments: "whether Loggia is being installed as part of a major renovation or just a simple add on to a home, nobody wants unnecessary disruption to their existing property or garden. That's where Loggia comes into its own. It delivers all the thermal and usability benefits of a traditional extension but essentially eliminates the need for a brick layer or a builder who has to battle with the unpredictability of British weather, which can impact not only the time it takes to build a structure, but can also impact how much remediation work is required to the property or the landscaping. Loggia is expertly installed by one of our trusted professional installers, and of course, comes with all the guarantees you'd expect."