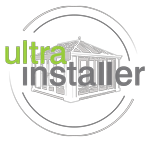 Nigel Grant uPVC and Prefix Systems: House Extension Installation
26th January 2018
Find an Installer
Location:
Clitheroe
System:
House Extension
The Tapping's purchased their detached property in a quiet cul-de-sac situated on the outskirts of Clitheroe. In 2012 the Tappings started to realise their existing conservatory was not living up to their needs – they were unable to use it in the winter as it was far too cold not to mention that it leaked during heavy downpours. Overall, it was an aspect to their home that proved to be detrimental to their comfort and peace of mind.
The noise of the rain on the polycarbonate roof meant it was difficult to sit in and hold a conversation, then during the summer months it was overwhelmingly hot, in fact the most use they were getting out of it was to grow plants. After much discussion the couple considered the idea of moving home to increase their living space. However, they did not want to move so therefore considered the option of transforming their existing conservatory with a brick pillar orangery.
Jason Explained:
"One of the main reasons for choosing this property was because it had a conservatory, Becky is a keen gardener and the idea of having the additional space which brought the outside in really appealed to us"
High Performance House Extensions
Having met Nigel Grant uPVC and Prefix Systems previously who had installed new windows and a door at their property, they approached him to give them a quote to replace the conservatory. They discussed the options of with the couple and the key benefits versus a traditional build, the fact that they were able to choose from a variety of colours, the use of a Conservaglass roof and the thermal performance of the extension all measured up and spurred the couple on.
This also included a visit to the Ultraframe showroom in Clitheroe to see one for themselves. During their visit they were extremely impressed with the technology and innovation that our extensions were able to offer. We invest heavily into the research and development of our product range, which enables them to stand at the forefront of performance, appearance and design. This way, you won't have to settle for less.
---
---
Environmentally Friendly House Extensions
The Tapping's are very environmentally aware and are always looking for ways to reduce their carbon footprint, so armed with all the information they required, they reached the decision to place an order for Thermally Efficient Extension with Nigel. Content with the current size of their existing conservatory and not wishing to take up any more garden space, they were able to utilise the base already there. This not only reduced the cost but also accelerated the installation process.
The installation of these house extensions, with roof and components supplied by Ultraframe specialist, Prefix Systems, took just a few days to complete and when talking to Nigel about the process he was impressed with the ease of the installation. Whilst he had to make some slight alterations to accommodate the linked garage the only hitch he encountered was how he was going to incorporate the cat flap for the Tapping's much loved pet.
Jason concluded:
"If it wasn't for Ultraframe's Thermally Efficient Extension, we probably would have moved".
---
A Choice of House Extension Styles
Our house extensions are fitted with our unrivalled conservatory roof systems, including the Ultraroof and Livinroof designs. Both of these roofs are designed to surpass modern expectations, allowing you to enjoy a living area that remains warm in the winter and cool in the winter. Our house extensions offer you a home improvement solution that continues to deliver exceptional quality 365 days of the year. We only offer you the very best designs.
Our high performance designs comprise the our intelligently designed super insulated columns, which are inspired by the traditional architecture of the Italian Renaissance. These designs are five times more thermally efficient than their traditional brick piers, which means they will notably increase the potential heat retention of your home. You'll not only be able to enjoy comfort in the winter months, you could also see a reduction in your heating costs across the year.
---
Find Your Nearest House Extensions Installer
Enhancing your home with the best the industry has to offer is made easy with our selection of leading house extensions. Whether your home is modern, traditional, heritage, period or new build, your nearest Ultraframe specialist will be able to cater to your requirements. We always ensure you get the perfect fit.
Find your nearest Approved Ultra Installer and benefit from better home improvement solutions. Tried, tested and approved, our Ultraframe specialists offer unbeatable standards of professionalism, reliability, efficiency and promptness. You'll be able to enjoy the best sooner, easier and in a way that perfectly suits you.