Hidsons Car Showroom Gets A Glass Face Lift
Tuesday 22nd February, 2005
With competition in the car sales industry stiff, Nigel Hidson, owner of Hidsons Car Sales, knows that getting potential customers through his showroom doors is half the battle. He wanted Hidsons Car Sales to stand out amongst competitors and chose two stunning Ultraframe portal conservatories to give his showrooms a major selling point.
Nigel explained: "With so many new models on the market, and even more ways to buy a vehicle, car showrooms are having to work increasingly hard to compete and get customers through their doors. With this in mind we wanted to transform our showrooms to draw in more potential customers and we turned to Kent Trade Frames to install two stylish portal conservatories."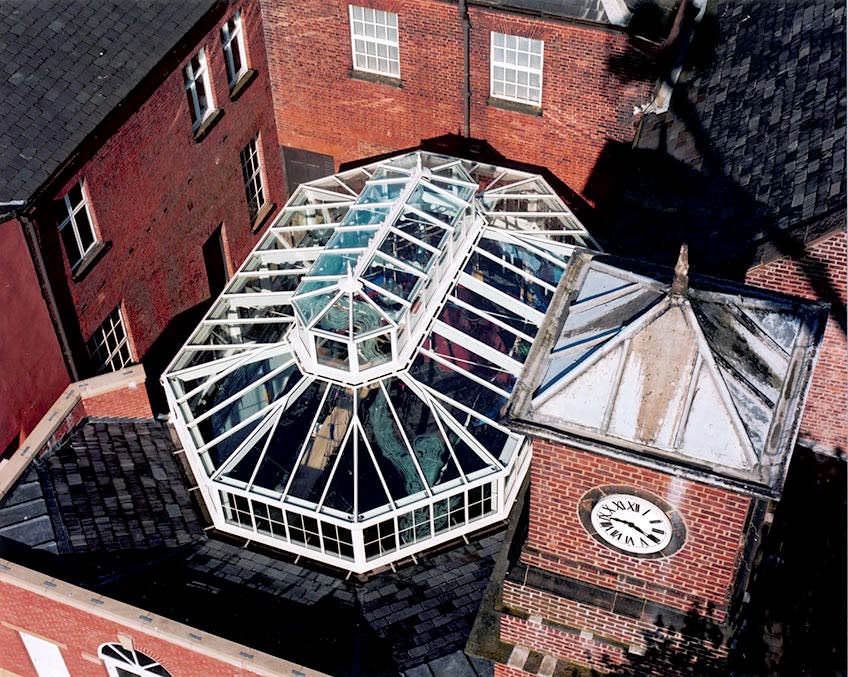 Kent Trade Frames based in Sittingbourne, worked with experts from the Ultraframe Portals Division to design and install the two tailor made conservatory extensions on Hidsons' car showrooms.
Colin Smith, Sales Installation Manager at Kent Trade Frames, said: "The car showrooms were a challenging project for us. They were our first large commercial installation so we needed a conservatory roof manufacturer whose experience, expertise and product we trusted. We have exclusively fabricated and installed Ultraframe roofing systems for 14 years and have always been impressed by the level of service they offer. When we approached Ultraframe, the Portals team responded superbly. Throughout the project, we had complete faith that Ultraframe could deliver on every aspect of the job, from surveying and drawing to on site technical support."
The first installation, at Hidsons' Rainham branch, involved expanding the existing showroom into a elegant conservatory front that runs the length of the 29 metre long building. The installation at the new Northfleet showroom was even more impressive. A 25m by 22m L-shaped independent conservatory structure was installed to transform a dark and dingy industrial unit into a sleek, contemporary showroom flooded with light.
Colin continued: "The final result is really impressive. We were confident that Ultraframe would design the highest quality roof to fit our brief and we were really impressed at how the whole job ran so smoothly."
Nigel Hidson commented: "The new conservatory extensions have totally transformed our showrooms, not just in terms of providing lots of extra space, but because of the contemporary and airy feel that they provide. They also help us to really stand out amongst our competitors. Our showrooms are different and more attractive than those of other dealerships who have standard, unattractive flat display windows. We are getting a great response from both our staff and customers and the conservatories mean that we are literally showing our cars in the best light possible!"
Nick Booth, Portals Sales Manager at Ultraframe, said: "The Hidsons car showrooms really show the diversity of what we can fabricate and how much we can tailor designs to suit and blend in with existing structures. We carried out numerous site visits and produced detailed drawings before fabricating the roofs. Then we advised Kent Trade Frames on their first portal installation. Their fitting team was incredibly skilled and efficient and the installation was perfect. Kent Trade Frames now has two great portal projects to begin its commercial portfolio."
The car showrooms have been great flagship portal style conservatory projects for Kent Trade Frames and are proof of their ability to compete in the commercial market, as well as the domestic sector that they have traditionally catered for. Colin Smith said: "Portals is an aspect of our business we are keen to develop. I'm confident that by continuing to work with the Ultraframe Portals Team and the high quality products they offer we can cover this market and will see a great deal of future success in commercial projects."
Kent Trade Frames is a dynamic family business established 14 years ago. It has recently added its own installation building and is investing heavily in new equipment to expand this area of the business. It has an excellent reputation for customer service and professionalism and boasts that 95% of its work comes through recommendations. For more information on Kent Trade Frames please call 01795 431600.