Getting Colourful
Sunday 15th January, 2012
Those consumers with cash to spend are looking to gain maximum value and/or obtain the most features for a given outlay. One way retailers can help to sell themselves is by offering the consumer all of the options, presented in a logical manner and clearly displaying differential price points.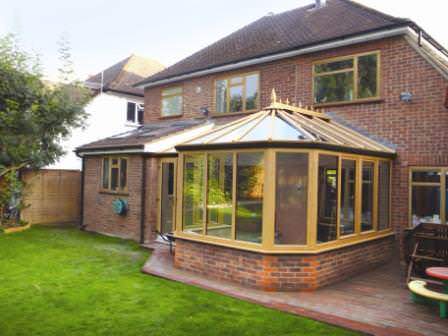 As such, consumers are also looking at ways in which they can get the best bang for their buck and maximise the potential value of their conservatory through customisation and adding those personal, unique finishing touches which will help their conservatory stand out from the crowd.
The prudent use of colour to sell differentiated conservatories is gathering pace and to see a completed installation in sage green – for example - is really refreshing. Clearly whichever colour is chosen has to be based on how it will theme with the masonry and materials that the host property is built from. Planning restrictions – like National Parks or conservation areas – are also considerations with heritage colours being deployed in these circumstances..
A Colourful Classic
As the UK's leading manufacturer of conservatory roof solutions, Ultraframe offers its Classic system in a choice of colours and foils to further enhance the aesthetics of the industry's favourite conservatory roof.
Whilst spray painting of components has been the traditional way to offer colours, the Ultraframe Classic roof comes predominantly foil wrapped. Major components such as ridge bodies, fascia claddings, radius ends, and valley and box gutter under claddings use the foil wrapping to offer a finish which is more durable than paint during site installation and therefore offer fitter benefits too. The foil laminated products used on major items in the roof and on the PVC side frames, have a real woodgrain texture to add a further dose of character. The products can be coloured one side or both sides with the possibility to mix colours between the outside and the inside.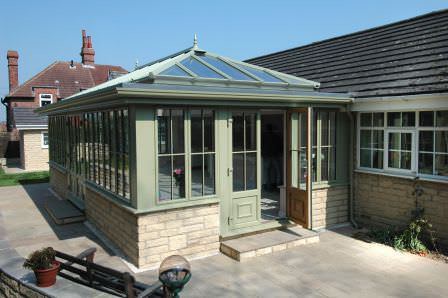 The Classic system is available in a choice of five coloured foils and four different woodgrain finishes, as well as white foil. The colours have been carefully selected by analysing popular trends and give users of the Ultraframe system a further way to differentiate themselves locally.
Matching PVC side frames in the same foil colours are available in the market and delivery times for this innovative solution are extremely quick and only marginally longer than a standard roof.
A Colourful Alternative
However, with such a demand coming from consumers for a wider choice in colour, there has also been an increase in the number of aluminium conservatory roofs being requested.
Further enhancing the proven technology used in Ultraframe's Classic roof, the new Ultraframe Classic Aluminium suite combines state-of-the-art ideas and design technologies with elegant, contemporary profiles to provide a strong, rigid yet lightweight system that can be configured into virtually any roof design, to suit a wide range of consumer tastes.
The range features aluminium glazing bar top caps, aluminium ridge body and low profile cresting, and aluminium cast ridge end, integral brush and weathering flashing, as standard. There is also the option to add a traditional cresting and ball finial too.
It is the only aluminium suite on the market to offer Cornice – a decorative fascia designed to hide the PVC gutter and give the conservatory an enhanced appearance – other systems on the market make do with a PVC gutter. Further enhancements to Cornice have been introduced and are a die cast 135 and 90 degree corner cover, which will help fitters achieve a consistent fit and finish at critical junctions.
When selling the Ultraframe Classic aluminium roof, retailers have the choice between two different shaped transom top caps; a contemporary and a traditional option. In addition, because the choice of RAL colour has such a big influence on the overall look and feel of a conservatory, Ultraframe offers a wide range of gloss, satin, matt and special metal flake finishes ensuring retailers can provide a finish to suit all tastes.

A Quality Choice
And so, if your looking for colour, you have a choice on the Classic roof- either the foiled PVC version or the full aluminium suite .Either option offers quality installation companies a hassle-free and cost efficient way to give consumers something that little bit different. Offering great value, the roofs are of a premium quality as you would expect from an industry leader like Ultraframe.

For more information on the Ultraframe Classic and Ultraframe Aluminium Suite, or on any of the Ultraframe product portfolio, visit: trade.ultraframe.co.uk.

-Ends-