Action from Ultraframe

An Ultraframe Classic conservatory is being installed live for house building website, www.newhome-live.com.

Market leader, Ultraframe has provided the roof for the conservatory being built on the house in Warwickshire, as part of a project which aims to show the construction of a new home from scratch. The site can be viewed 24 hours a day, seven days a week and is attracting more than 16,000 visitors each week.
The Ultraframe roof features a pavilion style gable end and was chosen for its style, configurability and ease of installation. Both the roof and the side frames use Conservaglass® Premium Clear glass, ensuring the conservatory will stay warm in winter and cool in summer.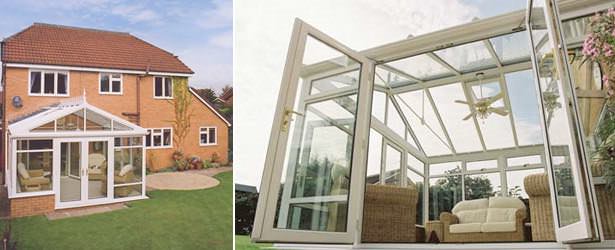 The project manager at New Home Live, said: "We are building a luxury home worth nearly three quarters of a million pounds and we wanted the conservatory to be the best available. Ultraframe, as the market leader were the obvious choice, with their commitment to quality, customer care and the fact that their innovative roofs are designed to the highest standards, we could be sure that we would get the perfect end result. We are delighted to be working with them on this exciting project"
The website is aimed at people looking for inspiration in self-builds, renovations, alterations and makeovers.
Linda Doughty, Marketing Director at Ultraframe, said: "This is a great venture for Ultraframe to be involved in and the website makes fascinating viewing. The live build demonstrates to installers just how configurable an Ultraframe roof is in a real on-site situation. It also allows thousands of homeowners to see, minute by minute, how quickly a stylish and innovative quality conservatory roof can be installed.
To view the live build visit www.newhome-live.com. The site features a product profile section, so that users can find out more about the technical features and benefits of an Ultraframe conservatory roof. Visitors to the site can also read practical conservatory installation advice and click through to the Ultraframe website, www.ultraframe.com to find a Guild Approved Ultra Installer in their area.