To demonstrate the technical superiority of our roof, Ultraframe approached Wintech.
The challenge - to test how the Ultraframe conservatory roof performed under extreme wind loads compared to competitor alternatives.
Wintech are renowned for their extreme tests of iconic building facades such as the Gherkin and the Bull Ring in Birmingham, but never before had they tested a complete structure - once again, Ultraframe were the keen pioneers of the conservatory industry - testing in a way that had never been done before.
Here are the facts about the tests:
Independent fitters, appointed by Wintech and working to each manufacturer's guidelines, built each conservatory roof onto a common set of industry standard sideframes.

The conservatory footprint/size selected for the test was a Georgian style with jack rafters, 4.5m width x 3.5 m projection (typical of the hundreds sold each and every day of the week.)
As a dedicated roof systems company, with over 20 years experience and over one million roofs out in the market performing in exemplary fashion, Ultraframe wanted to specifically look at the effects of wind uplift and examine key joints on the roof, like jack rafters and eaves beam to glazing bar. The test consisted of an aero engine in combination with positive pressure from an internal fan (trying to blow the roof off from the inside) resulting in a combined overall effect of wind uplift equal to 130mph.
The diagram below shows what happened during the tests conducted by Ultraframe.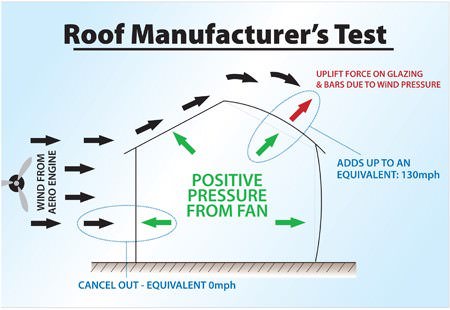 Wind from the aero engine hits the conservatory from the side and the wind current travels up and over the roof. As the air current travels over the roof, there is an uplift force on the glazing bars and glazing material in the roof due to the pressure of the wind - IE this current is trying to life the roof off.
The aero engine can supply air currents up to a maximum of 90mph and so to continue the testing beyond this point, further pressure was pumped into the conservatory using a fan. The name for additional pressure pumped into a structure in this way is positive pressure. As shown on the diagram, the positive pressure pumped into the conservatory acts as a second force trying to lift the roof off the conservatory, working in tandem with the force from the aero engine. The combined wind speed reached by using the aero engine and and the internal fan was 130mph.
It is important to stress that at this point the Ultraframe roof did not fail - the test 'maxed out', IE it was not possible using the equipment available to us to apply any further pressure to the Ultraframe conservatory roof.
Wind loads are measured in KN/m2. During the tests at Wintech the Ultraframe roof was subjected to a force of 1.4 KN/m2 before the test 'maxed out'.