There are a number of practical measures that can be undertaken to enjoy the conservatory more.
Create natural shading externally through the use of tensile fabric 'sails', or planting tall, quick growing trees shrubs.

Replace the existing glazing material with newer solar control varieties

Retro fit 'solar film'

Fit blinds
Many of these solutions can be offered by your Ultra Installer
Overheating conservatory testimonial

We moved to Burnham on Sea July 2008 into a bungalow built in 1980. The previous owners had a conservatory added around 1990. It was of wood construction with double glazed windows and a sliding UPVC patio door. The roof was poly carbonate. Entry was via the kitchen back door. Because it stretched the full length of the back of the bungalow it covered the living room window, so the living room was quite dark as was the kitchen. (Picture attached)




We have never owned a conservatory or lived in a house that has ever had one. We were surprised how much time we spent in the conservatory. The reason we more or less lived in there was because it was large, bright and airy. Unfortunately when the sun shone it was incredibly hot due to the poly carbonate roof. If it rained you couldn't hear yourself think!

We decide that we would incorporate the conservatory into the house living space. Firstly I removed the kitchen back door and window, which not only let in more light, it gave a greater sense of space by letting me bring kitchen units slightly into the conservatory space. We then decide to replace the conservatory with a UPVC double glazed unit with a glass roof.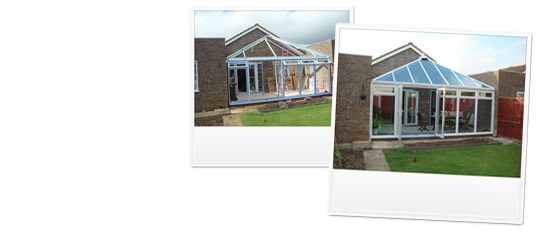 At the same time we removed the living room window and replaced it with French Doors. We also decided that the positioning of the conservatory between 2 walls made more sense if we extended out further into the garden by around an extra 600 mm. We also wanted a pitched roof to give the feeling of more space. Bi-Fold doors leading into the garden would have been nice but the cost was stupid so we had to settle on wide French Doors. The walls have been plastered and emulsioned. The floor was screened over to bring it up level with the kitchen floor and I am at this moment in time laying large 500 mm square floor tiles throughout. The kitchen now flows through and we use the conservatory as a dining area and sun lounge. The French doors between the conservatory and the lounge are wide open letting light flood in, until such times as my wife wants to close herself in the lounge in the evening. (I wanted no doors just one huge open space)


David
View all Conservatory Questions