If you are experiencing a leak in your conservatory, try to note down the circumstances of the leak. Which direction is the wind blowing from at the time of the leak? Does it always leak, or in certain circumstances? What are those circumstances? Try to locate where its leaking in from - take a photo if possible - capture as much information as possible to pass on to your Ultra Installer.


Roll your mouse over the illustration to view the captions...

Leaking conservatory testimonial

My wife and I bought our home last Christmas and inherited a lean to conservatory ( 17 x 7 ) across the back of our lounge which we believed was about 8-10 years old . Regretfully it leaked badly and due to its location reduced the light into our lounge drastically.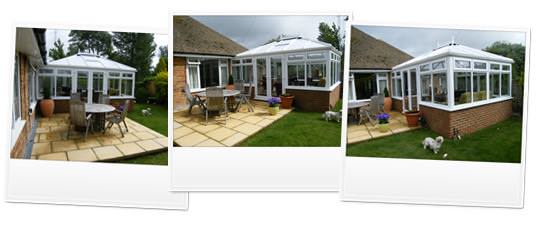 After the removal of the old conservatory the base was used to provide the foundation to our new patio which the attached photos show giving us another feature of improvement !

Our new conservatory , ( 16 X 10 ) projecting out from the left hand side of our lounge via the d/g door gives us so many benefits providing both a dinning area and addition living area which we greatly enjoy.




With the added bonus of more light into our lounge we are delighted with the finish and quality of the improvement to our daily lives .


Bob Bell






Just to clarify - it was just a replacement roof on the existing structure.

The previous roof was polycarbonate and I had inserted reflecting foil strips in all the channels in order to cool it in the summer. This was effective but the conservatory was built onto the kitchen which became much darker after the foil strips had been inserted.

Although the conservatory became much cooler in the summer after the foil insertion it remained unusable in the winter due to its being very cold. There had also been a water leak which had been temporarily repaired with silicone grease.

These two latter reasons influenced our decision to replace the roof. Our kitchen is now very much lighter and we very much hope that the heat retention in the winter will be significantly improved. This remains to be seen (or rather, felt).

The other benefit which we have noticed is that the conservatory is much quieter when it is raining. We can actually hold a normal conversation and don't have to turn up the volume of the TV!

So far so good - we're very pleased with the new roof but we are waiting to see if it's any warmer in the winter.


Norman
View all Conservatory Questions