Ultraframe network partner: EAS Windows
Location: Leicestershire
System: Loggia
Love my Loggia
Linda Love and her family moved into their spacious, detached house in Leicestershire in 2006. "One of the main reasons for choosing this property was the added space that the conservatory offered us," explained Linda Love. And over the coming years whilst they enjoyed their conservatory in the summer it did not retain heat at all during the winter months so made the space unusable. "It was badly built and badly designed – it was a bit of an eye sore really but we did like the idea of having an all year round space that would really enhance the views of the garden," said Linda. The Love family began to consider ways that they could cost effectively replace their existing conservatory.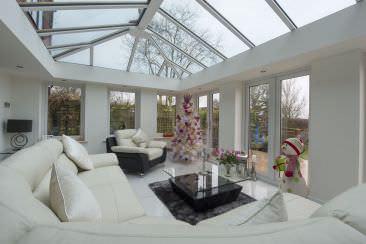 The Love's back garden opens onto the rolling Leicestershire countryside so while the outlook is stunning all year round – the open aspect leaves the rear of the property exposed to all weather conditions. With this in mind the Love's knew that whatever replaced their old conservatory it needed to have exceptional thermal performance – not only in terms of retaining heat but also reflecting heat away during the summer months. Linda explains: "we love entertaining friends and family – we're real party people so it is essential that we can use our extension to frame the garden all year round. We've got the best views in the East Midlands but haven't really been able to enjoy it year round."
They spent a considerable amount of time researching alternative glazed extensions and were swayed towards an orangery, but although they thought an orangery was the way forward for them in terms of delivering thermal performance, they were not keen on the overall look with the predominance of exposed brick work. They ruled out an orangery and while carrying out research online they came across Loggia and immediately made an impromptu visit to EAS Windows in Leicester, their nearest Ultraframe retailer.
They explained their requirements to Alan Cook at EAS Windows and without hesitation he explained, in detail, the thermal performance of Loggia – it was this insight coupled with the aesthetic performance of the aluminium Loggia columns that convinced Linda Loggia was the way forward. "As soon as I saw the Loggia I fell in love with it, it looks like a really sophisticated space both inside and out – I couldn't love it more."
The build process was incredibly straight forward and in just a few short weeks, the eyesore of the previous conservatory has been replaced by a beautiful contemporary space that has significantly improved the rear of the Love's property. Linda concludes: "this is a beautiful property but we always felt let down by the previous conservatory in terms of its looks and its thermal performance. We were actually quite embarrassed by it and would always tell friends and visitors 'it's not our choice'. But Loggia is very much our choice and it's become the focal points of our home - it really is the best room in the house."