Ultraframe network partner: Taylor Joinery & PVC
Location: Cockermouth, Cumbria
System: Loggia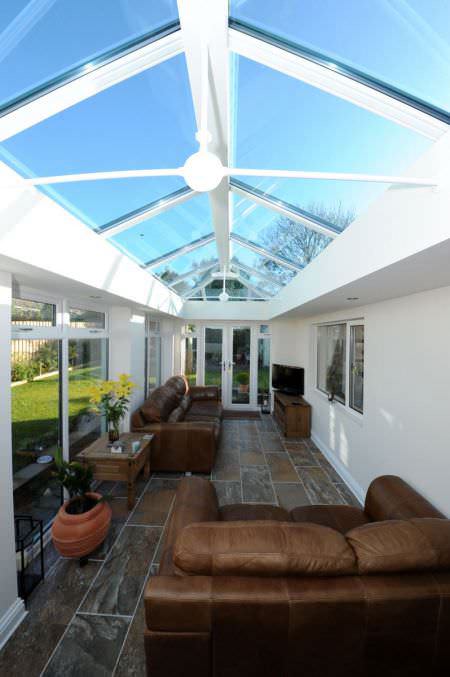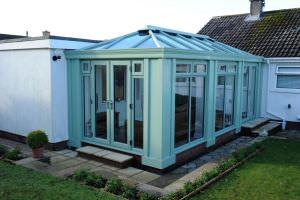 Retired police officer Mr Crosswaite and his wife bought their 3 bed semidetached bungalow in May 2013. The property already had a flat roof extension but the couple were keen to add even more living space and took on the task of sourcing a suitable extension solution that would blend in with their property. Both liked the idea of either a brick built extension in the form of an orangery or a typical traditional style conservatory. Whilst other building work was being carried out on their home their contractor recommended that they talk to Taylor Joinery. Once contact had been made, Scott Taylor met up with the couple to discuss all the options available to them. During their meeting Scott showed them Loggia. He explained all the benefits Loggia boasts including its market leading thermal performances, colour and design options but most importantly he was able to show them what Loggia would look like on their home by use of the iPad app. "To be able to see just how it would blend in with our existing extension was quite surreal. It looked like a real room, rather than a plastic box stuck on the house," explained Mr Crosswaite.
Once Scott had tweaked the final design, work soon got under way. "The fact that planning permission was not required was a real bonus in terms of the timescale" said Scott. "The installation process was so easy and simple. I'm a typical builder who doesn't like change, but the reality is that Loggia is pretty perfect, it has changed the conservatory market for ever and for the better. The overall quality is outstanding and it's totally unique to each customer" explained Scott.
A few weeks on from their Loggia being completed and now comfortably furnished and decorated the Crosswaite's are over the moon with the additional space Loggia has afforded them. "My wife chose the sage green colour, and I have to confess I was slightly apprehensive at the start, but once I saw it, I knew we had made the right decision, it's really subtle and has become a real talking point with our family, friends and neighbours. The Loggia has become our main living space now, it's a beautiful room to sit in to chat, dine and enjoy the garden, we do not use the lounge in the other part of the house at all" said Mr Crosswaite.
"Should we ever move in the future I would not hesitate to have another Loggia. I have already recommended it to a friend of ours whose original desire was to have a traditional orangery," concluded Mr Crosswaite.