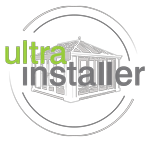 An Ultraroof House Extension Installation with High Tech Windows
26th January 2018
Find an Installer
Location:
Malvern, Worcestershire
System:
Ultraroof House Extension
Ultraframe Network Partner:
High Tech Windows Ltd - Conservatory Installer Gloucestershire
When Paul and Linda Churchill purchased their 4-bedroom semi-detached property in 2011 they knew it had lots of potential for a growing family. With two teenage boys, they were looking for a property that would easily accommodate the family's growing needs without the need to move again.
Paul Churchill comments:
"The house was originally built for military families, so typical of that style of build lots of big rooms and plenty of garden space – it also featured a conservatory which dated back to when the property was built in the 1960s."
---
---
Over the following years, the Churchill family grew, adding a grandchild to the family, as Paul explains:
"In 2016 we decided that we really needed to take down the existing conservatory and turn it into a space we could use year-round. We never really used the conservatory, although our grandson loved it for playing football. But with our son's becoming young adults we really needed to create more living space."
---
---
Paul is an avid fan of the internet and loves researching everything from travel to cars to home improvements. Researching conservatories, Paul very quickly found Ultraframe online and discovered solid-roof alternatives to a traditional glass roof conservatory.
Paul picks up the story:
"We knew that our conservatory would need to become a space we could use throughout the year, with our lads growing up we needed to build an extension that could easily become a second living area. We very quickly realised that a solid-roof extension was the answer. We'd used High Tech Windows on a previous property and with a showroom featuring all the roof systems we were interested in we visited. It was really important to us that we could look at the roof systems close up."
---
---
Linda and Paul Churchill opted for Ultraframe's Ultraroof, using an authentic lightweight slate-effect tile, High Tech Windows were able to design a space that not only looks stunning, but also delivers the family a space that can be used all year round. As Paul tells us:
"We loved both the Livinroof and Ultraroof, but on closer inspection we were really drawn to the tile on Ultraroof. By comparison to the previous conservatory, the new extension is three times the size, so we really thought the tile would look superb – we're chuffed to bits."
---
---
The couple's extension, now complete, has become a natural extension to their home. With a beautiful vaulted ceiling and glass panels immediately adjacent to the existing property, the family have a light-filled space and critically the extra room for them all to find their peace and quiet.
Paul concludes:
"The only downside is our young grandson isn't allowed to kick his football about in the new extension, but with doors straight onto the garden, we can watch him play outside and still enjoy our extension. We love it, it's everything we'd hoped for – we just need to get our sons on with the decorating!"
---
Find Your Nearest Approved Ultra Installer
Find your nearest Ultraframe specialist quickly and easily with your 'Find an Installer' tool . If you're looking for your very own Livinroof installation, there is no better place to look than the Ultraframe network.