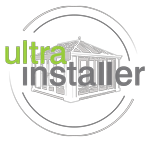 Case Study - A Stunning Conservatory Roof Replacement in Southampton
12th September 2018
Find an Installer
A Gorgeous Conservatory Roof Replacement in Southampton
Location: Southampton
System: Quantal Roof – Conservatory Roof Replacement
Ultraframe Network Partner: Zenith Home Improvements
Ultraframe is proud to show off a stunning installation completed for Mr and Mrs Makin in Southampton. A gorgeous conservatory roof replacement using our Quantal Roof option, it has transformed the couple's conservatory. It has given the room a new lease of life, as their old conservatory roof had begun to leak.
Completed by one of the many installers of Ultraframe products – Zenith Home Improvements – the conservatory roof replacement was the third installation that the couple had done with Zenith over the course of the past two decades.
Zenith brings over 40 years of experience to their installations in Southampton, fitting windows and doors as well as our Ultraframe conservatories and orangeries. They offer a comprehensive ten-year guarantee with all their home improvement products.
---
---
Improved Performance
A replacement conservatory roof from Ultraframe will drastically improve your conservatory's overall performance without having to tear the whole thing down and replace it with an entirely new one.
This could prove to be a much more cost effective way of renovating your home. What's more, you'll be able to use your conservatory right through the year, as you'll enjoy total weatherproofing, improved soundproofing, and better home security.
We offer a range of different conservatory roofs, including the aluminium Quantal roof used in the installation in Southampton. These include the Classic Roof as well as solid conservatory roofs and tiled roof alternatives. Both of these improve your privacy at home, while glazed panels will allow natural light into your home.
All our replacement conservatory roofs deliver improved thermal efficiency in comparison to older, outdated polycarbonate roofs. They will remain warm in winter while offering the right amount of ventilation in summer. This can help lower your home's carbon footprint and energy bills.
---
---
Happy Customers
Mr and Mrs Makin were thrilled with their replacement conservatory roof, which helped maintain the style of their lean-to conservatory while removing the drawbacks of their outdated roof. Discussing their new Quantal Roof, they said:
"In August this year our old polycarbonate conservatory roof began to leak, so we called you (Zenith), this time to replace the roof.
The new glass allows in more light and is far less noisy when raining; it really makes a difference."
Mr and Mrs Makin were once again thrilled with their experience with Zenith Home Improvements.
"On each of the occasions, the work has been fantastic throughout. Even the surveyor took several hours over his job to ensure everything was perfect for us.
The installation teams were very polite, very clean and nothing was too much trouble for them. They are to be highly recommended!"
---
---
Replace your Conservatory Roof Today
If you're interested in having your own conservatory roof replaced with any of Ultraframe's stunning replacement options, you're in the right place. You can use our 'Find an Installer' tool to locate the nearest Ultraframe approved network partner in your area.
From there, your approved installer will be able to survey your home, giving you a breakdown of your different options depending on the condition of your existing roof. For an instant price for your home improvements, you can instead use our online quoting engine.