How does the Loggia's internal heater work?
If you have ever stepped inside a Loggia conservatory, you will probably already be aware that everything is designed to be both luxurious and practical - the same principles apply to their dedicated internal heating solution. The addition of a Loggia internal heating panel adds significant value to your investment, and this is mainly because it turns a conservatory into a living space that can be used all year round. If it is just as important for your heater to look good, as well as functioning efficiently, the floor to ceiling design has been designed to resemble a stylish piece of decorative furniture. During the summer months, visitors could probably be forgiven for thinking that it is merely a decorative object.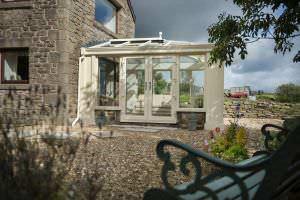 Fitting the heater is relatively simple for any qualified electrician, and it can be connected to an existing 5A socket. The advantage of having a heater from the same manufacturer as the whole conservatory is that is has been engineered to fit perfectly in the corner column, and there are also other configurations that work with the wall area between the existing house and the outer building. Loggia also provides various areas to conceal the associated cabling as standard, and each heater is capable of 500W of output - this makes is reasonably easy to calculate the total number of heaters that are required.
Two different thermostats are available to control the system, and there is the additional option of being able to control the surface temperature of the heating panel itself. While smaller radiators may only distribute a limited amount of heat via a small surface area, the Loggia wall to ceiling panels are far more efficient. To extend a central heating system from the main house, there will usually be a large amount of extra pipe work and plumbing involved, and this makes an electrical alternative a far more attractive proposition.
If you are thinking about going for under floor heating instead for a Loggia, it is well worth considering these instead if your electrician would appreciate something that is quick and easy to install.