What are the main differences between the three loggia styles?
Friday 21st February, 2014
So what are the differences between Loggia Prestige, Loggia Premium and Loggia Ultimate? They all offer different advantages depending on what your priorities are and what is most important to you.
Loggia Prestige is a great choice if you are keen to reduce your heating costs- a Loggia Prestige installation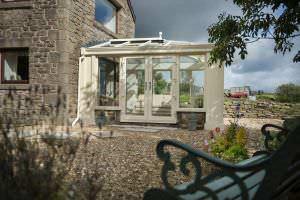 can slash your heating bills by as much as a third when compared to a typical conservatory. Now for the science: the Loggia Prestige option includes super insulated narrow columns, Prestige insulating pelmet and central lighting panel Combined these three elements combat the main three heat loss areas. As a result the room will not only be more heat efficient but will also be more pleasant to exist in- cooler in summer and warmer in winter. That is not to say that with Loggia Prestige you are compromising in terms aesthetics. The super insulated columns that come with Loggia Prestige suit both traditional and contemporary properties. There are also a range of options to choose from in terms of colour, and you can select the kind of columns you want and whether to have a simple or fluted infill, for example.
If having a really bespoke product is more your priority however then the Loggia Premium is perfect. If you want to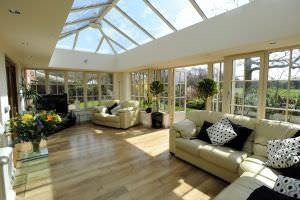 be able to stamp your personality on the design and let your creative side out then Loggia Premium is the one for you. You can choose from a dizzying array of design options such as wide or narrow columns, which can sit either on or off plinths, and add extras such as internal pelmet and central lighting panel. That said, Loggia Premium is also functional because it can help cut your winter heating costs. That is because it comes with electric panel radiant heaters that provide over half of the heat you will use in the winter- so no nasty surprises when the heating bill arrives!
Finally, we have the Loggia Ultimate. Loggia Ultimate takes the Loggia Premium a step further by combining it with the Ultimate roofing solution - Ultraroof 380 by Ultraframe. So what is Ultraroof 380, It adds the effect of a magnificent vaulted ceiling to your installation which creates a dramatically enhanced feeling of space. You can also add big sliding doors, bi-folding doors and entire elevations of glazing. In other words, you have complete command over the design and layout of your new creation, and as much light as you want.