Ultraframe Portals division adds Beauty to Health Spa!
Ultraframe Portals division adds Beauty to Health Spa!
Ultraframe has created one of its most complicated roof designs ever, building a beauty therapy suite on the prestigious health Spa Clarice House in Bury St Edmunds.
Ultraframe, the leading designer and manufacturer of conservatory roofing systems, were consulted when a previous company struggled to cope with the ambitious project which involved building a 9.4 x 5.0 metre conservatory on the side of the 19th century building.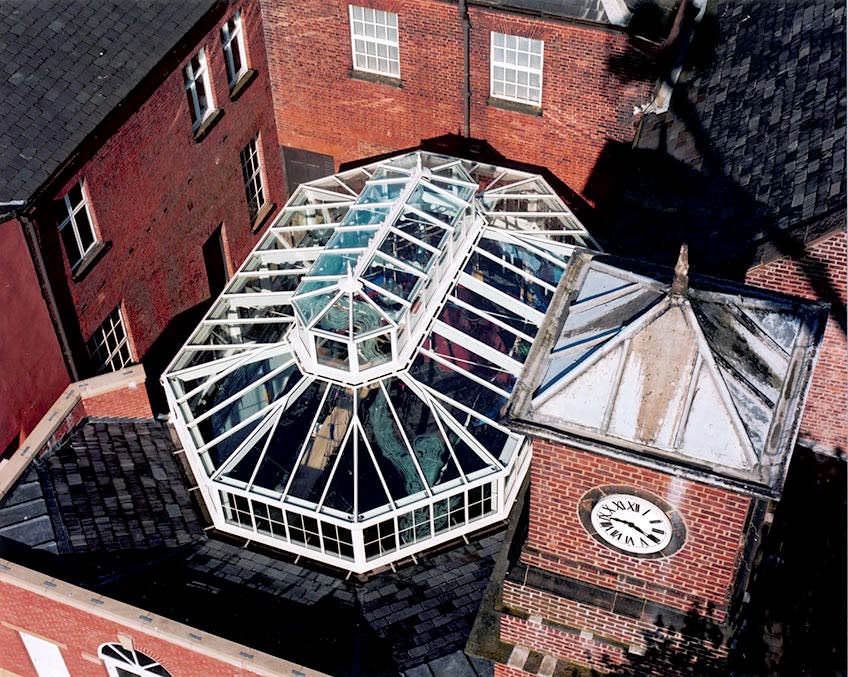 Nick Booth, Portals Sales Manager for Ultraframe, said: "This project really did test the capabilities of both our Portal designers and production teams. It is probably the most awkward conservatory roof that the portals division has ever had to design and fabricate. The final result will be stunning once installed and the interior completed."
"The challenge was to incorporate a 50 degree pitch glass roof to compliment the existing building, whilst at the same time incorporating dormer style projecting roofs of differing levels to accommodate the connecting tall feature window and adjoining lower doorway and stone steps."
Glenn Hodgson, Portals General Manager, became the key link between the architect and the customer, visiting site to discuss the proposals and undertake a detailed site survey. Glenn worked closely with all parties to come up with the most practical design whist still keeping the ambitious project within budget and on programme. Local company A & B Glass, a member of the Ultraframe Registered Conservatory Installer Scheme, also worked with all parties to carry out the full installation. A & B have already installed several portal framed conservatories and their professionalism, experience and dedication enabled this expert team to work quickly and efficiently on this stunning extension.
Based upon the detailed drawings and information prepared by Ultraframe's Portal Division, A & B Glass compiled a total package for the supply and installation of the portal frame, including glass, windows, frames, gable frames and weathering.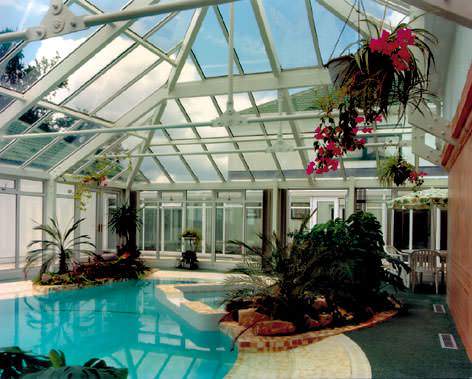 A & B Glass Construction Manager Steve Darkins said: " This is the most ambitious conservatory we have erected, you really do have to see it to believe it. Ultraframe's roof is, as always, spot on! No one else could have made this one – everything will be easy after this, it has certainly been a challenge".
Stuart King, Managing Director of Clarice House, said: " We have been delighted with the work so far. It is going to look absolutely lovely and will be the perfect area for our guests to relax and unwind in before and after beauty treatments. The roof really does look beautiful and blends in perfectly with the 19th century building."
The Portals Division, under the leadership of the new Portals General Manager, Glenn Hodgson, has recently re-structured. The division specialises in the design, pricing, manufacturing and supplying of portal framed conservatory roofs and bespoke roofs requiring the inclusion of additional structural support.
The portals team, comprising sales, estimator, structural engineer, designers and installation consultant are available for advice at all stages of a project. They can assist with design, prepare budget quotations and indicative layouts and if required, visit site to discuss proposals and carry out detailed site surveys, followed up with detailed working drawings, full structural calculations and fixed price quotations.
Glenn said: "We understand every project is different and can tailor our services to suit each individual client's requirements".
For further information, please contact the Ultraframe Portals Division on 01200 452340 or fax your enquiry to the Portals Division on 01200 452397