Coloured Foils Offer a Brighter Future
Friday 13th February, 2009
The Ultraframe Classic system is now available in a choice of five coloured foils to further enhance the aesthetics of the industry's favourite conservatory roof. Cream, Sage Green, Fir Green, Grey and Black foiled roofs are now available to order direct from Ultraframe, potentially offering great value when compared to an overpainted roof. The five coloured foiled roof options feature a wood-grained effect and complement painted timber or aluminium side frames particularly well, as well as being a perfect match to coloured foiled uPVC side frames, which are increasingly available from the major window profile manufacturers.
The five colours have been carefully selected by analysing popular trends and – in addition to the white foil that is also offered – give users of the Ultraframe system a further way to differentiate themselves from the competition. Mark Hanson, Marketing Manager at Ultraframe and Chairman of the Conservatory Association, commented: "Twenty five years on, Ultraframe is still as dedicated as we have always been to providing users of our system with innovative new products that will give them 'the edge' over their competitors in the marketplace. The new coloured foils are another exciting development to our Classic roofing system. Whilst spray painting of roof components has been the usual way to offer colours, our roof is foil wrapped. Major components such as ridge bodies, fascia claddings, radius ends, and valley and box gutter under claddings use the foil wrapping to offer a finish which is more durable than paint during site installation, therefore offering fitter benefits too. By the careful selection of appropriate technology the Classic system's reputation is further enhanced with a new way of achieving stunningly different aesthetics."
Few of us can argue that times are tough in the industry right now as the 'credit crunch' is encouraging many homeowners to hold onto their cash, and so maximising the very best potential out of every sale is a must for any retail installation company, more so now than ever before. When buying a conservatory, many consumers aspire to the aesthetics of a hardwood conservatory but do not have the budget to realise this dream. Coloured foils on the Ultraframe roofing system are a lower cost alternative to hardwood and provide a great opportunity for retail installation companies to up sell, whilst providing consumers with the look they want at a price point they can afford. Couple this with the outstanding thermal and technical performance of the Ultraframe roofing system and this really does make for a very powerful proposition to put to a potential conservatory buyer.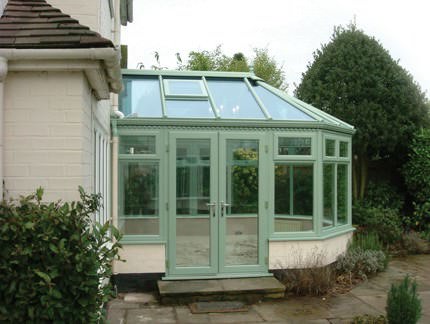 Mark Hanson concluded: "The new coloured foiled roofs offer quality installation companies with a hassle-free and cost efficient way to provide consumers with something that little bit different. Offering great value, the foiled roofs are of the premium quality you would expect from Ultraframe and we hope our customers are as excited about the sales opportunities presented by this new product as we are. If installers can manage to up sell during this difficult trading period and provide their customers with conservatories that are something different to the norm, this will not only maximise their profits, but will hopefully lead to further orders as their satisfied customers show off their new conservatory. Recommends are still one of the strongest lead sources for our industry and we are hopeful that a product such as the foiled roofs from Ultraframe may prove to be a key driver of this valuable lead source."
Sample swatches are available from Ultraframe for use in retail showrooms, featuring a cross section of glazing bar in each of the five colours (Cream, Sage Green, Fir Green, Grey and Black) in a handy 'stick' which can easily be transported for in-home demonstrations too.
For further information or to request a sample set call the Ultraframe Marketing Team on 01200 452367 or to get a price, fax quote requests to 08000 131939.
- Ends -
February '09
Ultraframe deliver innovative and top quality conservatory roof systems for the trade which suit all styles, all applications, all consumer types and which offer excellent value for money.
The market leading company invests heavily in research and development to provide the most technologically advanced and stylish conservatory roofing solutions, maximising light and space. Ultraframe are at the forefront of conservatory design and its systems are mainly used in the home improvement sector but also in new housing and commercial applications in the UK and Europe.
In 2006 the privately owned Latium Group, which has many interests within the glass & glazing and home improvement markets acquired Ultraframe. The Latium Group is owned by entrepreneur Brian Kennedy.

For further media information:
Mark Hanson
Ultraframe (UK) Ltd
Salthill Road
Clitheroe
Lancashire
BB7 1PE
01200 452375
Mark.hanson@ultraframe.co.uk