An Ultraframe conservatory enables you to relax in solitude in a comfortable, spacious environment.
We all know that a conservatory can be a great addition to your home and a relaxing, peaceful environment.

An alternative room to entertain family and friends, a separate room to relax on your own away from the hustle and bustle of family life, or simply an extension to your existing living room, adding a conservatory to your home offers you the extra space you have always dreamed of.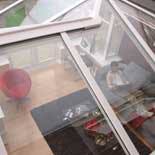 It is inevitable that as families grow and children get older, more space in the home is needed. However, moving to a bigger home can be expensive and stressful and many people are choosing add a conservatory to their home for a cost effective and problem-free alternative to adding an extra room to your home.

Enjoy a lazy brunch with the weekend newspapers, watch the television, relax with your favourite book or simply sit and appreciate your garden and your surroundings as they change through the seasons. No matter what you choose, a conservatory can create a new living room in which to enjoy peace and quiet or even the excitement of entertaining friends in sunny, light surroundings.
Although a conservatory is a contemporary choice for a living room, the versatility of a conservatory means that your new living room can be either modern, traditional or changes according to each season. To design your conservatory to suit you, simply adapt the furnishings to the feel of the room. See below for further ideas on how to use your conservatory as a Living Room to suit your lifestyle.

A Traditional Conservatory

With a delicate palette of pinks and greens and terracotta floor tiles, this will help a traditional Victorian Conservatory blend into its natural environment. Traditional wicker furniture is also a good choice for your conservatory as it will bring the room together but it will not deteriorate with sun exposure.

A Contemporary Conservatory

As the saying goes, "Less Is More". Give your conservatory a fresh appeal with white walls and white floor tiles. Adding modern accessories such as a chic white coffee table with glass vases and orchids, your Living Room will be cool, contemporary and modern enough for any chic homeowner.

A Relaxing Conservatory

Create a modern, relaxing conservatory space by using soft, natural colours. A neutral sofa with dark wood flooring and soft painted walls will have you relaxed in no time. Create a feeling of comfort with sumptuous cushions and a throw. Place some of your favourite books and magazines around the room for a truly relaxed feel. Candles and soft lighting will also create a relaxing atmosphere.

A Cool Conservatory

Keep your conservatory light and bright with ivory walls which will help maximise daylight. A simple hand-crafted wooden table and bench will also provide the feel of a light, airy room. Light greens and pale blues will open up the space, for a fresh, airy room.

A Summer Country Garden Conservatory

Pastel shades and flowery accessories will give this room a summer touch. Place garden roses with plenty of greenery in vases around the room, freshly picked flowers strewn on the window ledge and a watering can next to the door - it's the little accessories that will give this room a summer look. Pressed flowers in picture frames and earthy tiles on the floor will also give the room a rustic charm.

For further information about Ultraframe conservatories, plus handy hints, tips and useful advice, complete the registration form now to order your FREE Ultraframe Essential Guide to Conservatories.